We are safely anchored in Coos Bay, Oregon. After only four days at sea, we ran for cover to avoid some forecasted rough weather – 45kn winds forecast from the southwest, which would make for a very difficult upwind sail. A part of me feels a little like the typical cruisers described here in John Vigor's blog post "Oregon's Siren Lure", but at the same time a big part of being a good captain is knowing the limitations of yourself and your crew. Four days was an excellent introduction to offshore sailing, and now that we've waited out the weather we should be leaving tomorrow at around 10am.
After a very late departure attempt which turned into a false start, we returned to our anchorage for a nights sleep, re-packed up and finally left Neah Bay at around 9am on September 28th. We motored TIE Fighter out to the buoys at the mouth of the Juan de Fuca and then, with no small amount of excitement, past the buoys and onward into the open ocean. The crosswinds at the mouth of the Straight were quite fierce, and the ocean currents, upon meeting the Straight currents, whipped up some short, steep waves that threw spray straight up into the air only to be yanked sideways by the wind. The view of the choppy waters framing the peninsula in the mid-day sun was wild and magical, one I will not soon forget – it was as though Canada came down to see us off.
Fortunately, upon rounding the peninsula the waters became a lot more calm and predictable – we still had waves of five to seven meters in height to deal with, but on the ocean the height of the waves doesn't matter nearly as much as the frequency. Two-meter waves at five seconds is an awful lot less comfortable than five-meter waves at twelve seconds! With the longer period the entire boat would slowly rise and fall, staying nearly level the whole time – quite a difference from the rough low-fetch coastal waters of the Georgia Straight, where the short, steep waves in stronger weather conditions would toss TIE Fighter around like a cork.
Once we got around the bend, it was smooth sailing. We put up the sails in a wing-on-wing fashion, with one sail on each side of the boat – this is only possible when travelling directly downwind, and is actually a lot trickier on the ocean than I expected; usually TIE Fighter is very stable, but with larger waves we had to deal with a lot more of a twisting motion of the hull, which combined with the light 10kn northerly wind made it much more difficult to keep the sails full.
The first day was the best of the winds for trying out our spinnaker, but given that I've never actually flown a spinnaker before, and Miya is just now learning how to sail, I didn't think it was the time to jump right in there. Soon enough I'm sure we'll have time and appropriate weather, and then we'll see just how interesting downwind sailing can be… apparently the combination of the light weight of a cruising trimaran like ours and a large, lightweight parachute sail adds a whole new dimension to sailing in trade wind conditions. Lin and Larry Pardey have been quoted as saying that 60%-80% of all ocean sailing is in winds of less than 15kn, so sooner or later we'll have to master the art of spinnaker sailing.
We lost sight of land around 6pm, knowing that it would be days before we'd see it again… of course we couldn't have known at the time that we'd be seeing landfall in Oregon rather than California. Sundown brought trepidation; neither of us had any prior experience with open-ocean sailing, especially in pitch darkness, and the winds rose in intensity through the night. Thankfully we had the foresight to tie in a reef before the sun went down fully, and the cutter sailplan makes reducing sail a fairly straightforward task: if the wind starts to rise, just take down the yankee and sail under main and staysail alone. I rigged up a downhaul line on the yankee before we left Vancouver, so under duress nobody even has to leave the cockpit to pull down the forward-most sail.
The night was long and windy, and despite our carefully-laid watchkeeping plans, we both ended up staying awake far longer than we'd have liked.
Our watch schedule was as follows:
10:00 – 13:00 : Drew
13:00 – 16:00 : Miya
16:00 – 19:00 : Drew
19:00 – 22:00 : Miya
22:00 – 04:00 : Drew
04:00 – 10:00 : Miya
…so basically one six-hour shift at night and two three-hour shifts during the day, each. We figured this would give us at least one decent sleep at night, and time to nap during the day as well as some time to actually spend together. In the future we will probably consider taking on another crew member for longer passages, so that watches could be pared down to four hours on, eight hours off.
Regardless, I sent Miya to bed for a few hours of sleep. She awoke at around 10am and took over the helm, sending me off to bed… but I hadn't even been asleep an hour when she ran in to wake me up. I awoke immediately, sure that something had gone horribly wrong, but she said
"I caught a fish, and it's too big to land by myself, I need your help!"
Well, who can argue with that? I grabbed the net and she pulled her fishing line – a thirty-meter section of 8mm white nylon rope tied to a cleat, with a three-meter steel leader and a large white spoon lure – up to the boat. The fish proved to be an albacore tuna that we measured at just under a meter in length, and though we didn't have the ability to weigh it we estimated it to be around 10kg – Miya had a hard time holding it up for photos!
Now, it's worth noting that Miya is a 'moral vegetarian'; she chooses not to eat meat on the grounds that factory farming practices are unsustainable and cruel, and that if everyone on the planet ate meat like North Americans do we'd be in a famine in no time. That being said, she will eat meat that she's killed herself, and this tuna was no exception – she did the catching and slaughtering all herself, all I did was help to get the fish up onto the boat.
Things we learned about tuna from this experience:
Tuna travel in large schools, and when feeding they surface in great numbers, the water essentially boils with them!
Tuna have a lot of blood, and blood that isn't immediately dealt with gets quickly much more difficult to clean up.
Cleaning a tuna isn't that much different from cleaning a river trout, just on a (much) larger scale.
Our knives need sharpening again. The filet knife especially needs to be kept razor sharp, and possibly replaced with a knife of better quality.
Tuna have a lot of meat, and though we can eat a lot of tuna at once we need to figure out better ways to preserve the meat; our initial attempts at tuna jerky were not as successful as we'd have liked.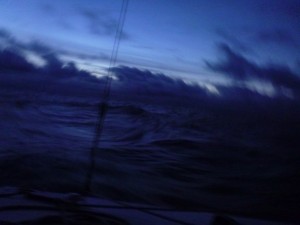 We began to fall into a rhythm of watches, as the weather slowly shifted from sunny with light northerly winds to cloudy with gusts and finally to rainy with shifting westerlies. The rain made for less comfortable watches, and we spent most of the third day holed up in the aft cabin watching movies and keeping dry, poking our heads up every few minutes to look for other boats – though apparently 70nm from shore is not the preferred route for container ships nor fishing boats, so we didn't see another soul for at least twelve hours.
The weather slowly grew worse, and though I've considered myself somewhat resistant to seasickness, between the lack of sleep and the diet of mostly-tuna for the past day, we both began to feel the effects of staying inside and watching movies. There's nothing worse for motion sickness than to remove yourself from any visual indication of movement!
We continued to reduce sail as the wind rose in intensity – at one point we were seeing what we assume were 30kn winds sustained, with gusts much higher, but without a proper wind speed indicator we don't have a way of truly knowing. Our only real indicator is that we know that somewhere around 25kn, the wind will blow the forward cabin hatch closed, and so if we're going in and out of the forward cabin in high winds we have to be careful not to catch a cabin hatch to the head!
For a good few hours we were down to just the staysail – which is an extremely heavy sail made from reinforced dacron, smaller and stronger than the storm jib on most sloops. I have to admit I was impressed with TIE Fighter's handling of the stronger winds. I'm sure we could have run through the harder winds with a double-reefed main, but because of her full battens and aging sail track it is difficult to tie in the second reef without putting the boat head-to-wind, and as we were making 4kn under staysail alone we were happy to have the extra insurance against sudden gusts. For a while we had a problem with Steve, the autopilot, wherein his belt was slipping on the steering wheel and causing us to not turn as much as he'd like – but it turned out to just be a tension issue, quickly remedied.
The winds died down to a steady 15-20kn, and we ran a double-reefed mainsail through the night without much incident – but even with the reefs in, by Saturday morning we noticed that a large tear had appeared at the head of our mainsail. We still haven't gotten around to sewing it up, hopefully tomorrow I'll get a chance to tackle it while we motor out past the Coos Bay Bar. TIE Fighter came with a 'ditty bag' of sail repair materials, needles and tape and the like, and I am pretty confident that the repair can be made in fairly short order.
Still, by Saturday afternoon we found ourselves within 30nm of the Oregon coast, and the weather reports coming over the VHF radio were somewhat grim: 25kn-35kn sustained winds with gusts of 45kn-50kn,  all coming from the southwest. If we had a few hundred miles of leeway to the east and a well-rested crew with strong stomachs we could have easily sailed through… but to sail from our position would require turning around and running back up to the northwest for a day or more, then turning down southerly again – it wouldn't so much be sailing through the weather as just sailing the weather. A hard look at the charts showed the port of Coos Bay barely 30nm directly to the east, and so after much deliberation, we decided to head in to land to wait out the weather.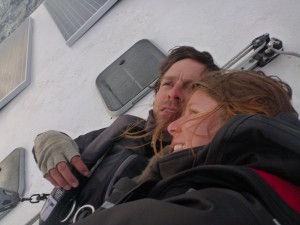 We made it into the bay at about 2am on Saturday night, anchored in the dark and fell into a deep, deep sleep. In the morning we checked in with US Customs to let them know that we'd made landfall, then took the zodiac over to a nearby marina for showers, fish&chips and beer. Since then we've been carefully watching the weather, resting up and getting work done both on boat and dayjob projects. The nights have been cold, and we've had to run our diesel furnaces several times just to keep the boat comfortable – we're definitely looking forward to warmer climates!
I have to say, I found offshore sailing to be exhilarating, to the point where I can begin to understand a little of what must go through the mind of someone like Bernard Moitessier. I think it would have been very different if we'd had someone with any prior ocean experience onboard, but I'm happy to have jumped in with both feet and learned it as we went. We're very lucky to not have had any major problems, be they boat- or crew-related, knock on wood. I certainly feel more comfortable now with the boat as a functional, ocean-going sailing vessel, rather than just a floating apartment, and Miya is showing leaps and bounds in her progress as a competent sailor.
Our weather window has once again opened; tomorrow we leave offshore for the second time, with our next landfall planned for San Francisco in four or five days.