OK! So! It's been over six months since the last posting, and I'm finally just now finding myself with enough free time motivation to update the blog with what we've been up to. Miya and I just returned to La Paz after a month-and-a-half whirlwind "vacation" back to Oklahoma and Vancouver, respectively, culminating in a return to the Black Rock Desert for the incredible Burning Man Festival.
Regardless, we're back now and I haven't updated since March, so it's time to bring you up to speed about where we've been. There were four distinct chapters to the past six months: pre-boatyard, boatyard, post-boatyard and traveling back to the first world. I'll break these parts up into four pasts just to keep things logical.
So! Without further ado, here's some photos from the pre-boatyard chapter.
Miya picked up a food dehydrator online in San Diego and started drying fruits and vegetables. It's a lot of work, but the results are worth the efforts. Flashing forward a few months, Miya's mother actually bought me a hand-cranked apple peeler/slicer, which is something I'd been envying for a long time now, and Miya just dried the first batch of Red Delicious apple slices, which we've been eating all weekend.
La Paz certainly has no lack of natural beauty, and each evening we're treated to a spectacular sunset. It's gotten to the point that we're not easily impressed anymore, which is both amusing and sad; it's strange how quickly you can acclimatize to any situation, and no matter how otherwordly, sooner or later anything can become "normal".
We did manage to pull ourselves away from La Paz for a few days, and spent an amazing ten days or so living in anchorages on the Islas Espirtu Santo and Paritida, just north of La Paz. Uninhabited, the islands are beautiful rocky deserts surrounded by blue waters teeming with fish. Here Miya is pulling in one of her trolling lines – the colors above her are the woven hammock we found in La Paz.
Aside from trolling from the TIE Fighter when we're underway, Miya also enjoys trolling behind the inflatable dinghy when we're exploring, and in this case she landed some sort of fish that we have never managed bothered to identify. Is it a bonita? Who knows! It was delicious.
Certainly sunsets at anchor in the city are beautiful, but they've got nothing on sunsets in (nearly) empty anchorages out on the islands! This was taken in the northernmost anchorage on Isla Partida. Not shown is the 35kn winds that picked up after midnight – we had a 15kg 'Delta' anchor down, but I jumped into the dinghy in the pitch black night to kedge out a second anchor just in case… we're able to anchor the TIE Fighter very close to the shore due to her shallow one-meter draft, but when the wind picks up the rocky shoreline starts to look terribly dangerous…
The anchorage on Isla Partida in the daytime – nowhere near as scary in the daytime!! Funny how howling winds and pitch black with no moon can turn even the prettiest tropical anchorage into a scary place. Here we could swim to shore and hike up into the hills, which were riddled with sandstone caves, some of which showed signs of being inhabited hundreds of years ago.
Summertime brought excellent growth to the garden, and Miya explored the local grocers to feed us with the best things she could find… here is avocado, tuna, eggs, potatoes and peppers served on green lettuce from the garden.
Nothing quite like harnessing the sun to help with food production!
(sure, that's what I like best about this photo… the dehydrator… right…)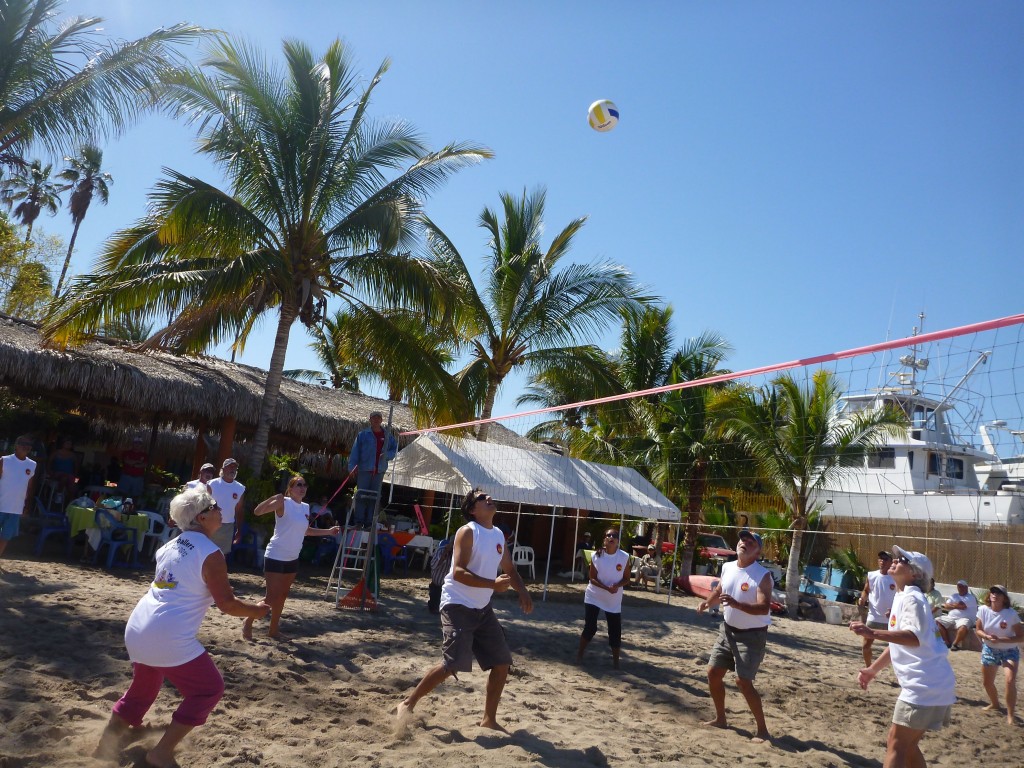 Leading up to "Bay Fest 2012", a call would regularly come over the VHF radio – "Volleyball practice today, 5pm, no experience necessary!". Back when I was a young pup I enjoyed beach volleyball every summer at camp, so it wasn't too great a stretch to think I might enjoy it again. Despite not having volleyed, bumped or spiked in well over twenty years, I got back into the routine very quickly and greatly enjoyed the activity.
During Bay Fest, one of the seminars was put on by our friends Rob from s/v Keetya-1 and Will from s/v Shaman – they enlisted Miya to help with their "Safety Aloft" session, teaching us the basics of working safely on a mast.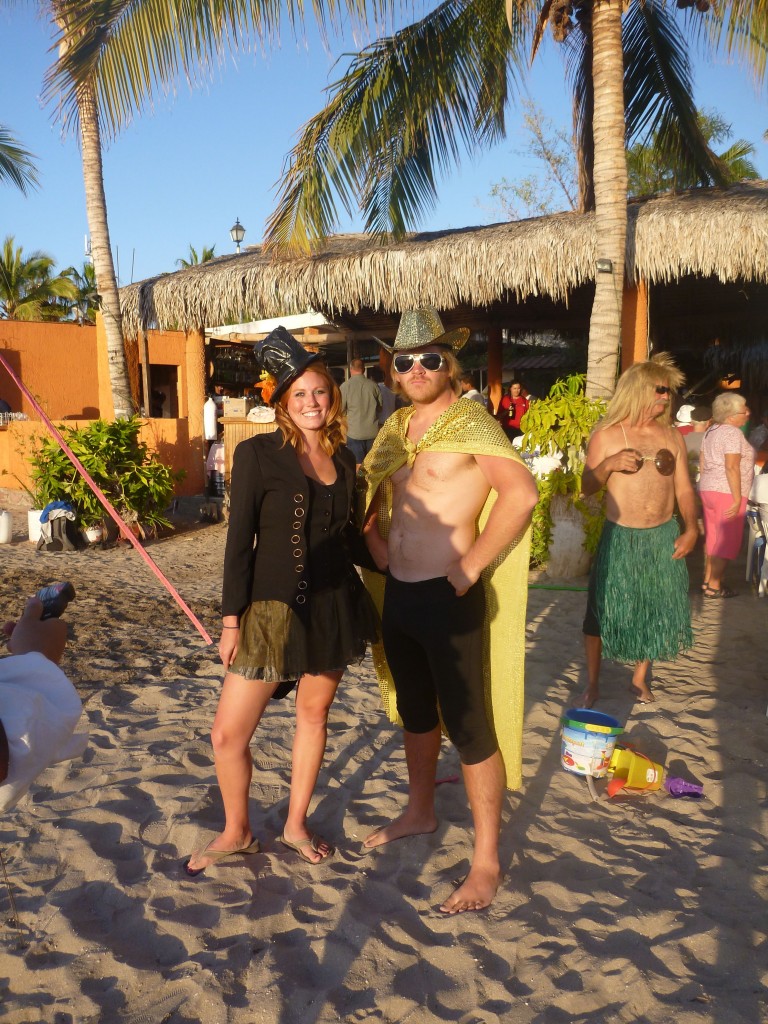 The end of Bay Fest was a big costume party blowout, but very few of our new friends had costumes – this wasn't a problem, as both Miya and I travel with a big tickle-trunk of costumes each. We were able to costume Tim and Meredith from s/v Luckiest, though Jody from s/v Avatar already had his own costume planned out.
…and that brings us up to the 2012 haulout, which I will have to present as another blog post.