The first rule(*) of a road trip: always carry toilet paper.
Technically it doesn't have to be actual toilet paper, and in the case of the past few weeks, it's been the grotesque four-inch stack of napkins that the guy at Extreme Pizza gave me the night before leaving Richmond, California just before Christmas. I think I can say with some authority that that guy had no idea how far those napkins would travel, how useful they'd be, or the circumstances within which they'd be useful – but I'm thankful for them nonetheless. The combination of gut flora acclimatizing to the cuisine of a different culture, combined with questionable bacterial content in the drinking water (or perhaps from the ice cubes in the margaritas), alongside the fact that many gas station restrooms in rural Mexico don't even have toilet seats, much less pristine rolls of fluffy two-ply… it all makes for an adventure.
(* Aaaaactually, the first rule of any adventure is "absolutely no dying", a perfect rule drilled into my head by the lovely people at Ephemerisle, a yearly floating anarchist city-event that occurs in the Sacramento River Delta each summer. Dying puts everyone around you in a bad situation; it's generally considered to be pretty selfish.)
Regardless, an awful lot has changed since my last blog post! I purchased another sailboat near the end of 2015, and immediately moved aboard, effectively cutting my SF rent costs down to about a sixth of what they were in my one-bedroom apartment in Lower Haight. Living (or rather sneaking) aboard in the Bay Area wasn't simple, but combined with a work-travel schedule that had me out of town almost half the time and some creative couch-surfing, I made it work.
The new boat's name is "s/v Little Wing"; a monohull this time, an Islander 34 — a stout little ocean-crossing adventure boat on which I spent a great deal of my free time in 2016 sailing in and around the San Francisco Bay. I intend to take her on a multi-year adventure up to Canada, then down through Central America, and ultimately through the South Pacific… but that's a story for another time.
This post is about current and recent happenings, so that I get back into the swing of writing this blog on a more regular basis. This post is about my return to s/v TIE Fighter, and life in San Carlos, and some of the events that brought me here.
This post is only passingly about the facts that I've left my job with Dell EMC, sold off all the gear from my awesome music studio in Richmond and bought an old pickup truck off Craigslist.
This post is about the fact that currently I'm back in Mexico living on my trimaran, up a ladder in the dry-storage workyard (or Marina Seca), and that I'm working on her every day; I'm hoping to have her back in the water by February 10th, and hoping to cruise the Sea of Cortez for the rest of the winter.
The big move happened just prior to Christmas, and in a surprising turn of events, Miya joined me for the twenty-hour drive down to Mexico. In fact, she had joined me for another roadtrip out to Wilbur Hot Springs a few weeks prior, as a test of the "new" truck, to shake out any unexpected mechanical issues on some muddy back roads. We left Richmond a few days before Christmas, and headed down the I-5, taking our time to smell the flowers on the way.
The GPS led us south, but on a rainy Wednesday around noon, when Google Maps told us that we'd be looking forward to at least four hours of gridlock on the highways just outside of Los Angeles, we decided that our time would be much better spent on rollercoasters. We stopped at a nearby Six Flags – sparsely populated, due to the weather – and spent the day jumping from coaster to coaster and eating way too much sugar. I even tasted my first funnel cake! (verdict: too sweet, but I'm glad I tried.)
We left the United States on December 23rd, exactly one day before the rules of my NAFTA-issued TN Visa would have me in trouble with the federal government. The letter of the law states that a person with TN status is to leave the country immediately upon termination of employment, but the conventional wisdom is that you've got ten days to get your affairs in order before you're legally in the doghouse. I took nine days, and even after crossing into Mexico I went back through to the US again to make sure that the CBP agents had registered that I'd left the country – it's always wisest to take any border-related matters very seriously.*
(* Incidentally, you should alway, always wear a suit and tie in your passport photo. No matter how filthy and hung over and unshaven you are when you arrive at a border, no matter how third-world the country or remote the border crossing, a suit and tie in your passport photo says "I am a person of significance in my home country, someone who could potentially cause you a lot of paperwork".)
Christmas was spent at a fancy resort hotel here in San Carlos, nearly breaking the budget at a whopping $52/night. A few bottles of sparkling wine, some exploratory adventures around the area, a few margaritas – we had a lovely holiday while doing our best tourist impressions. We picked out a Christmas cactus together, and decorated it with the results of a pre-border Target mission – anything to delay the emotionally-loaded task of returning to TIE Fighter, unpacking our former life together, and making hard decisions about what to do with all of the things.
Ultimately no big, sweeping decisions were made – though it was very clear to both of us that the connection that had kept us together for the six years we were a couple was still very much alive and well, and inasmuch as no new formal plans or agreements were made, nothing was ruled out either. It remains very much to be seen whether the very rich, very full lives we've built for ourselves over the two years we've spent apart could be compatible enough to have a future together, but I remain optimistic and will be traveling up to visit her in San Francisco at the end of January.
After extending our stay at the resort hotel for another day of cartoons and sparkling wine, we finally buckled down and spent two days on TIE Fighter unpacking and sorting. One disappointment we encountered was the fact that despite being repeatedly reassured that the Marina Seca was a very secure spot to store a cruising sailboat, a few things had somehow grown legs and left the boat. Miya's Sailrite sewing machine was the largest and most obvious missing item, followed by my mandolin, my busking loudspeaker, my binoculars and a few powertools. Interestingly all of the missing items had been stored very much out in the open, and the boat hadn't been overtly ransacked – had the thieves searched a little deeper there were other valuables that I'm sure would have been attractive. I guess it's to be expected given the circumstances, but it still felt like a huge violation of personal space.
Miya left back to California, and I spent a few days cleaning and settling in for a long month in the boatyard… but I was soon rescued by my friend France, who came to visit for New Years. I picked her up at the airport in Hermosillo and after a drunken New Year's Eve spent barhopping around San Carlos, we left south on a roadtrip to Topolobampo to catch a ferry to La Paz.
If you only learn one word in Spanish prior to going on a roadtrip in Mexico, I suggest the word "topes". It's a seemingly innocuous word, but if you see a sign that says Topes on the side of the highway, that word means "brake aggressively or lose your suspension". Topes means "speed bumps", but in Mexico those bumps can be anything from little steel domes set into the asphalt to huge amateur-constructed concrete curbs across the middle of the highway. You basically have your choice – pay the steep tolls for Mexico's (admittedly excellent) toll highways, or use the libramente freeways, which are somewhat older, often in disrepair, and regularly have huge topes for apparently only one reason: to make you slow down so that you might purchase food from a fruit stand or restaurant conveniently located at exactly that spot. One might wonder cynically which existed first; the tope or the restaurant…
It was a couple of hours south of Guaymas, in the middle of nowhere, shortly after one of these topes – one that I hit very slowly actually, since this is not my first goddamned rodeo – that my little truck suddenly began sounding like a MUCH LARGER and MUCH LESS MECHANICALLY SOUND truck. I pulled over to have a look, and found that the exhaust pipe leading from the engine to the muffler had cracked completely in half! A half-kilometer later we pulled (loudly) into a gas station to try to make a repair, and the attendant was less than helpful – since it was New Years Day, and also a Sunday, he explained that the chances of having any repair work done before Monday was out of the question.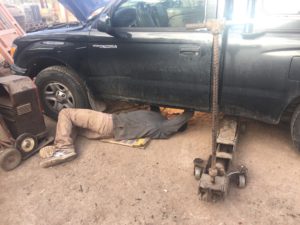 We had a cup of coffee and a think, and decided to try asking at a nearby llanteria (tire sales/repair shop) for help. Using my rudimentary Spanish, accompanied by a lot of hand-waving and pointing, I showed them the problem. A young guy beckoned us to bring the truck around to the back of his shop, where he got right to work, jacking up the truck and arc-welding the pipes back together. He worked for about an hour and a half in total; France and I had a bet going on what he would charge us, with me guessing around 600 pesos ($30 USD) and her predicting at least 1000 ($50 USD)… but in the end he asked for 150 pesos ($7.50 USD), though I insisted on giving him 200 ($10). Gotta love Mexico!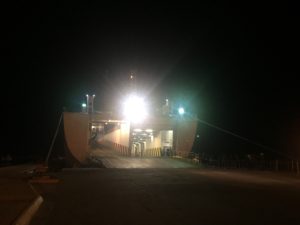 Riding the overnight ferry was an adventure all in itself, as we hadn't had the foresight to book a $50 "private cabin" with beds, since my pickup truck has a camper shell and a mattress in the back. Upon boarding the ferry, we were told that passengers were expressly forbidden from the car decks during transport! Any "public" seating with vertical space filled up immediately, staked out with blankets and baggage by locals, and we ended up sleeping the night shivering on the hard tile floor of the noisy ferry lounge as a live entertainer continued her song-and-dance act until well after 3am. Note to self: next time, make sure to bring blankets, pillows, or hell, even a hoodie – it gets cold at night in the middle of the Sea of Cortez in early January!
From La Paz, we drove an hour south to La Ventana, the kiteboarding Mecca of the Baja, where France had booked us into a hotel. We spent the next three days taking kiteboarding lessons by day, and drinking fiercely strong Baja-style margaritas at night, singing and playing guitar with new friends.
Even after a couple of days of lessons, I'm still not to the point where I'd be comfortable taking a kite out by myself, but I was able to get up on the board and ride for about thirty seconds at a time… but only in one direction! I was a skateboarder and snowboarder back in the late 80's and early 90's, but that was before people really rode ambidextrously, and so I only ever learned to ride "regular foot", i.e. left-foot-forward. On a kiteboard I was able to ride left-foot-forward repeatedly, but it took all my focus and concentration to try to ride right-foot-forward for more than a couple of seconds at a time.
After a few days of vacation in La Ventana, I was beginning to get antsy about working on TIE Fighter… but France was still having a blast, so she changed her flight home from Hermosillo to a La Paz departure and got a room for another night, and I left for the ferry. My timing couldn't have been better – due to the President of Mexico's decision to deregulate gas prices, protestors on the Baja had shut down the highways! I made it as far as La Paz before running into my first roadblock; six or seven tractor-trailer trucks parked across the highway, blocking all traffic.
Luckily I had budgeted a couple of extra hours to get to the ferry, with plans to stop in La Paz for lunch; I had to reroute several times down sketchy backroads, bypassing the highways, until finally reaching the last stretch of road to the ferry terminal. The ferry departure ended up being delayed for several hours, and I heard later that all sailings for the next few days were cancelled outright from the protests blocking fuel deliveries to the docks. Glad I caught the one I did!
I returned to the workyard and dug in hard, but luckily I was provided with a brief respite by my friends Jamie and Darion, down from Victoria BC, visiting family in San Carlos. Jamie had access to a couple of amazing Hobie Mirage kayaks – they're pedal-powered, using fins modeled after dolphin tails, super fast and very easy to pilot – and managed to borrow a third one from a neighbour, and the three of us headed out on an adventure around Isla El Pastel.
We "paddled" a total of 12km (7.5 miles) without really even feeling it, running into tonnes of seabirds and a couple of pods of bottlenose dolphins on the way! I would jump on buying one of those kayaks, but they're quite expensive and I think I'd be constantly worried about it having it get stolen at a dinghy dock.
BUT WHAT ABOUT TIE FIGHTER?!? How is she?? How well did she survive the hurricane?? What projects have you been working on in the boatyard for the past month?!
…well, that'll be the subject of the next blog post. 🙂
Also, just as a footnote: since it's now 2017 and blogging isn't exactly the bleeding edge of internet technology anymore, I've branched out a bit. You're welcome to follow me on Facebook, Twitter and Instagram, if that's the sort of thing that floats your boat. Hah!