I remember once stopping a musician friend in Vancouver on the street to ask him why his previously-prolific musical output had stopped, and he replied:
"I dunno man, I guess I just don't have anything to say right now."
And that's a pretty succinct version of exactly what I've been feeling for the past couple of years. It's been entirely too long since I last wrote an entry here, for a variety of reasons, but those reasons are finally fading away. I think it's time to start posting again.
---
This morning I opened my blog for the first time in many months, or perhaps actually years. Sitting in my 'drafts' folder, alongside a half-dozen other unfinished posts, was an entry from May 24th 2013 entitled "Anchor Lights". Unlike most of the other drafts, some of which were pages long, this one contained a single telling sentence:
"This morning at breakfast, as I've done hundreds of times before, I flipped the little switch that turns off the anchor light – the terrifying part is that I won't be turning the switch back on for while, and I can't be certain just how long that will be."
See, to understand this you have to know a little bit about anchor lights. According to international law, a vessel at anchor must display an anchor light after dusk; a single bright white light visible from all directions, usually at the top of the mast if the boat has a mast of any kind.
Practically speaking, very few boats actually follow the law, since leaving a light on all the time takes electricity and planning. As such, an illuminated anchor light often means the difference between an unused, empty boat being stored on a mooring field versus a well-maintained vessel, occupied by prudent seamen, cruisers, or live-aboard sailors.
To those in the know, a glowing anchor light says this place matters, this is a home.
---
A great deal has changed since my last post. Shortly after our kitten Alice died, Miya and I decided that our time in La Paz had drawn to a close, and so we pulled anchor and headed out to cross the Sea of Cortez in the TIE Fighter. Approximately two-thirds of the way into our first major crossing together I popped the biggest of questions, accompanied by a sailboat-friendly titanium engagement ring I had had custom made… and Miya said yes!
The crossing took ten days or so, and we spent the next few months living at anchor in La Cruz de Huanacaxtle, meeting new friends and settling into a new community vastly different from our familiar cruising grounds in La Paz. We talked through our plans to sail south to El Salvador, Honduras and Nicaragua… but we slowly came to the realization that if we were planning on continuing our sailing adventures together forever, we'd have to deal with some old student loan debt – and better sooner than later – or we'd never have true freedom.
Realizing that our carefree days in Mexico were now numbered, we took the opportunity to rent a cheap car and go on an epic, insane road trip across Mexico, down the Caribbean coast, into Belize for a few days to renew our Mexican tourist visas, back into Mexico and returning up the Pacific coast. A whopping 7500km (4660 miles) of driving in total, sleeping in the car, tenting or staying in cheap hotels – that later turned out to be "sex hotels", but that's a whole other set of stories. Singing along with the iPod, we ate our meals out of a Coleman cooler and had constant adventures along the way. We visited Mayan ruins, river-tubed through vast cave systems, nightclubbed in Cancun, went cavern diving in Yucutan cenotes and scuba diving on the Belize Barrier Reef. We even talked our way into a few nights' stay in the hot-tub/honeymoon suite of a completely vacant high-end beach resort! We made a great many amazing memories together, ones I will cherish forever.
When we returned to La Cruz I began hunting online for work in San Francisco, where the ongoing tech boom meant that we'd each have the best chance of landing decent-paying jobs so that we could pay off the debt in the shortest amount of time. After four weeks and twenty-six phone interviews – mostly done via Skype from the back room of a local restaurant – I chose the best of three written offers and committed to starting work at a cloud computing startup in mid-June 2013, just under two months later. We readied the boat, bid farewell to our new friends in La Cruz and began the long voyage north to San Carlos / Guaymas, where we'd drydock the TIE Fighter for the duration of our land-based adventures in the United States.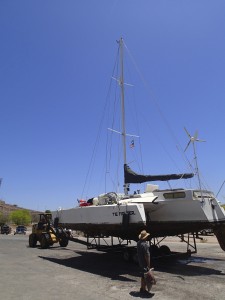 The passage to San Carlos took a couple of weeks, stopping first at Punta de Mita and then San Blas, where the tiny "jejenes" (pronounced "hay-HAY-nays", apparently Spanish for "chainsaws with wings") ate us alive. The only thing that thwarts those tiny monsters is smoking them out of the boat with burning coconut husk! At least the fine mesh we carefully hot-glued around the bed – ineffective against the microscopic jejenes – was perfect for keeping out the clouds of mosquitos we'd later battle (and lose dramatically to) every sundown in the boatyard in San Carlos.
We continued, stopping briefly in Mazatlàn, staying a few days in the tiny town of Altata, and then pushing through hard for eight days straight until we finally reached the city of Guaymas, which was unexpectedly hosting some sort of large, noisy festival on the waterfront… we never did figure out what the occasion was. After a few days of rest and recuperation, we made the final half-day hop to San Carlos, where we settled into the bay for our last week aboard.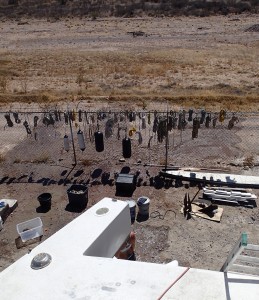 With the help of some amazing new cruiser friends (Hi Denny and Carla!) that we had met at a swap-meet in La Cruz de Huanacaxtle a few months prior, we sorted out the logistics of long-term dry storage. Denny found me a used trailer custom-made for a big Searunner trimaran like the TIE Fighter, and over email I arranged to purchase it – owning my own trailer made for much cheaper haulout and storage rates.
We stayed aboard in the bay for a few more sunsets, and on the morning of May 24th, I got up, made coffee and turned off the anchor light for the last time.
The TIE Fighter was hauled out of the water in an amazing four minutes flat – as compared with the forty-plus minutes at each prior haulout – and the trailer was pulled the half-mile up the highway to the 'Marina Seca'. Over the next seven grueling days in the hot, dry work yard she was unpacked, sorted, inventoried, washed, packed up, oiled, drained, bagged, pickled, shut down and mothballed for what we told each other would be a year – or maybe two, at most – before we returned to our home, to our "little wooden box on the sea".
---
Miya and I lasted a little under a year and a half together in the big city. In the end it would seem that a relationship forged by adventure and tempered in salt water needs some sort of constant adversity to rally together against in order to flourish. City life, with its easy money and vibrant social scenes and minimal day-to-day hardships was not the struggle to which we had become accustomed. In the same trend we'd seen between us in less-active periods many times before, we soon found ourselves turning on one other.
In September of 2014, after a long rough patch, we finally came to a mutual impasse and ultimately parted ways. It was by many orders of magnitude the hardest breakup I've ever been through – it's never easy, of course, but it's doubly terrible to break up when both people still love each other deeply. No one could ever say we didn't try our hardest to make things work – but nobody ever ended a relationship because everything was going great.
We sailed away on a winter's day,
With fates as malleable as clay, but
Ships are fallible I say, and the
Nautical as all things fades away.
I do recall our caravel,
A little wicker beetle shell, with
Four fine masts and lateen sails
Her bearings on Cair Paravel
Oh, my love!
Oh, it was a funny little thing.
To be
The ones
To've seen!
— Joanna Newsom, "Bridges and Balloons"
---
Since the big split, as after my previous epic breakup ten years ago, I've been in a period of deep introspection and intense personal growth. This new chapter is still somewhat vague and unfocused – the TIE Fighter still sits patiently for me in Mexico, but aboard her waits a life rigged for two. The main (ie. financial) impediment to my return is no longer an issue, but after seeing a sad, single, middle-aged sailor or two slowly sinking into alcoholism in pretty much every popular anchorage I've ever stayed in (that's literally what the song "Margaritaville" is about), I haven't much interest in becoming another one of them.
For now life in San Francisco is stable, if a little ephemeral – I just can't seem to shake the feeling that everything around me is temporary. Whenever I need to purchase something, I still stop and ask myself whether that thing will ultimately come and live on the boat with me, or whether it will be sold, given away or donated when I leave here. As a result, all of my purchases are either very-high-quality and long-lasting items… or cheap and disposable. My furniture is minimal and mismatched with almost no sentimental value. All of my worldly possessions here can be neatly sorted into two piles, where the 'stays-in-San-Francisco' pile is vastly larger, and the end result is a nagging feeling that I'm living in a hotel, or more accurately in a giant "yard sale" pile – the only thing missing is masking tape pricetags on everything. Very little about my cavernous one-bedroom apartment feels like "home" in the way the TIE Fighter did – there is certainly no anchor light glowing above at night, real or metaphorical.
Of course it's not as bad as I'm probably making it out to be – overall, San Francisco has been very good to me! I have a solid job and a steady paycheque, with enough coming in to put about a thousand bucks in the bank every month if I'm careful. I've got a great, fast-growing circle of friends who keep me very socially active, I'm fit and healthy, and I get out sailing often. I eat very well, ride my bike every day and practice archery regularly. I'm making music constantly, and even have a monthly paid guitar/singing gig at a bar in the Mission! There are a million opportunities to learn new skills here, and – let's face it – the dating pool in San Francisco is incredible, even moreso when compared with Mexico… not that I'm even remotely ready to commit my heart to anything serious yet!
Still, I often find myself reminiscing about the many good times on the TIE Fighter – I used to love telling people "I'd rather be in a quiet anchorage dreaming of a hot shower than in a hot shower dreaming of a quiet anchorage"… and yet now, once again, I find myself in the latter category.
I miss Miya every day – she was an excellent first mate, a perfect road trip co-pilot and a fearsome partner in crime, and I truly wish we'd been able to mitigate our differences and plot a course for a future together that satisfied both of our needs. I have unending respect for her, and wish her nothing but joy and happiness in her new life.
---
So! A new chapter has already begun. Once again I find myself disengaged and ensnared in the rat race, though with vastly different circumstances this time, and with a known exit taunting me. There are still an awful lot of unknowns in my world right now though, and as such taking up writing this journal again would probably be an excellent way for me to quantify and track my progress.
There is nothing quite so exciting and terrifying as a blank slate. Should I cut the docklines and return to a simpler, eye-level life on a cruising sailboat? Should I sell the boat and embark on a new, greater adventure, perhaps in Europe or SE Asia this time?
…or maybe I just need to find my anchor light in San Francisco for a while.