I am not really much of a sports enthusiast.
Actually I quite like to participate in sports, though I have to admit that I prefer solo endeavors (cycling, sailing, windsurfing, snowboarding etc) over team sports.  Still, I have a hard time understanding the draw that many people have towards watching other people play sports.  And along those lines, I cannot for the life of me figure out why someone would want to wear a sporting jersey – for a sport they don't even play, mind you – with another man's name on the back!?  The mind boggles.
Regardless, for the first time since WrestleMania VII, I find myself excited to watch an upcoming televised sporting event!  Even further, it's an event that I previously found really boring, so you can infer that they've basically stepped it up a notch.
And what a notch it is!  This year's America's Cup will be raced with multihull sailboats for the first time… ever, as far as I know.
Rather than write about it ad nauseum, I'm just going to post a bunch of photos lifted from an email I received, the originator of which apparently took them directly from Sail-World's website.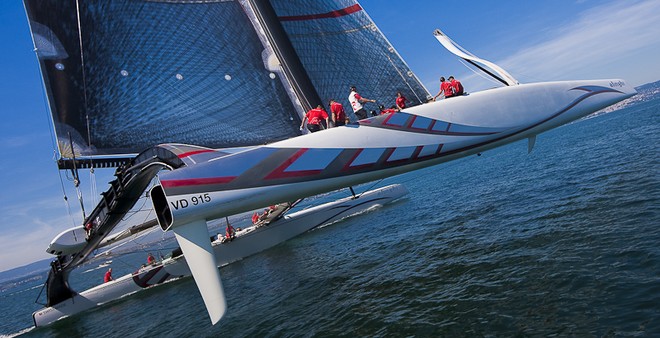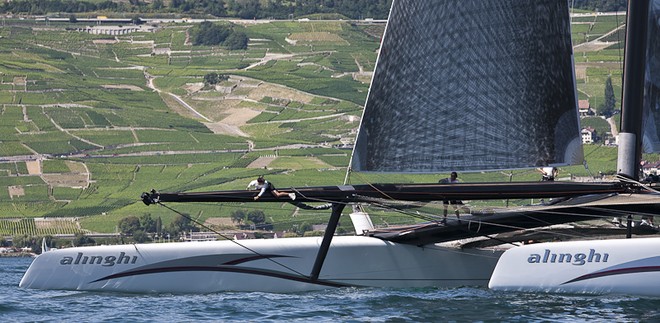 Holy crap, I can't wait to see this.  These spacecraft sailing multihulls are up to three times as fast as the boats used in previous America's Cup races, and as I'm sure you can understand, trimarans hold a special significance for me.  I will definitely be attending some kind of America's Cup party!