I know that the weather in Vancouver last winter was considered 'mild' by most, but between the steep learning curve of diesel furnaces and a general lack of knowledge regarding boat life in colder climates I can't really say that the experience was particularly pleasant.  That being said, nothing last winter prepared me for multiple days of sub-zero temperatures!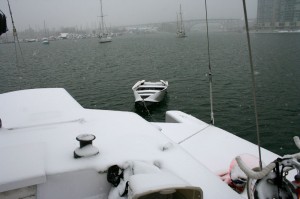 Miya and I returned from Oklahoma (she competed in the Route 66 Marathon, finishing in 5:05:24, an excellent time for a first marathon!) on Monday night, but with a -17º windchill we decided that it would probably be best to spend the night at my sister's house.  When we returned in the morning, we discovered the cold had actually frozen much of the plumbing solid, destroying the new galley faucet.  Fortunately the new hoses held up to the ice and the new flexible water tanks didn't freeze, so we didn't have two hundred liters of water in the bilge to contend with but it was still a nail-biting couple of days waiting for the pipes to thaw.  Just to make things interesting, the follow-up to days of bitter cold was a massive (by Vancouver standards anyway) snowfall – Thursday afternoon found me digging out the snow shovel from the depths of the starboard ama and shoveling a solid six inches of snow off the decks.  Shortly after I finished, of course, the snowfall turned to sleet and subsequently to rain, cleaning off the remaining snow and leaving me with a pair of dinghies full of icy water to bail out.
The rains haven't really stopped since, but that hasn't stopped us from continuing with boat projects, albeit indoor ones.  I've managed (under duress) to get the diesel furnace in the forward cabin working again, a problem that required the routing of diesel fuel lines under the floorboards and rigging an electric transfer pump.  Now the forward cabin is toasty and warm, though the new propane stove in the aft cabin is turning out to be not the heat source that the former diesel cookstove was.  We've had to run the Honda generator for several hours each day, just to keep a pair of small electric heaters going – it's a disgustingly inefficient way to keep warm, but at least it works.  I'm in the market for a second small diesel furnace.
The cold hasn't stopped Miya from continuing to turn Tie Fighter into a home, and now the aft cabin salon has received some Christmas treatment.  We even have a small Christmas tree fashioned from a live rosemary plant!  The salon doesn't smell like a traditional Christmas, but between the rosemary and Miya's constant baking it definitely smells delicious, a welcome change from the pervasive smell of diesel and the salty sea air.