(alternate title: "Served!  Served!  Served!")
Ok, so I figured I'd write this "tomorrow", but that "tomorrow" was Christmas Eve and well… you know how it goes.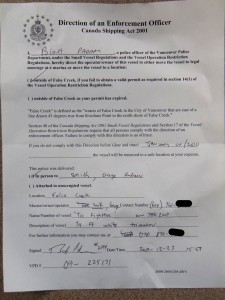 So!  December 23rd, I got a visit from the Vancouver Police Department, in the R.G.McBeath.  They were quite friendly, as they often are, but they explained that unfortunately the court battle between the city and a False Creek liveaboard had come to a close, with the judge ruling to uphold the 2006 Vancouver addendum to the Canada Shipping Act.  The Act, translated to layman english, says that no person or group can "own" a navigable water – ie anywhere that the tide goes in and out.  Navigable water is public land, and anyone can anchor in any navigable water for as long as they like as long as they're not blocking shipping channels or in military areas.
…or as the Addendum states, "or if it's False Creek, Vancouver, in which case all bets are off.".
Anyhow, the officers told me that they were now under orders to enforce the anchoring bylaws, and that I would have to get an anchoring permit if I wanted to stay in False Creek.  They gave me an informational pamphlet detailing what to expect in the Creek during the Olympics, and they served me with an official notice saying that I must have said permit by January 4th, or that I'll be towed from the creek at my expense.  That's not an insignificant expense, either – the towing includes a haulout, which requires a special mobile crane lift to pull the boat out of the water and up onto land storage.  Usually a haulout costs around $200 per trip, and the officers made sure to point out there would be added storage fees racking up daily while the boat rests on their land.
Just as an aside, I wouldn't be surprised if the VPD marine dry storage place didn't actually have the capability to lift a boat of Tie Fighter's size out of the water – she's about 7.5m wide, and most travel lifts can only handle a boat about 5m wide…  not that I have any inclination towards putting that theory to the test!
There are folks around in the Creek who have their hackles raised by the ruling.  Honestly, I must confess there's even a little anti-authoritarian anarchist part of me left over from my teens – that part of my mind has built a mental barricade from a burning, flipped over Prius, and is screaming "WE WILL FIGHT THIS!" – but the reality is, I have no intention whatsoever of fighting it.  I'll go.  Frankly, I kind of needed the kick in the ass; if you're going to live in an apartment that can travel around but you don't actually take advantage of that fact… well, you might as well be living in a trailer park.
If you're reading this and you're not from Vancouver, you might not realize that False Creek is pretty much ground zero for the Vancouver 2010 Winter Olympics.  I am currently anchored just west of the Cambie Bridge, about 300m from the Olympic Village, future home to the illustrious athletes while the games are ongoing, and future snooty yuppy condo village for decades after that.  It has actually been a real pleasure to watch the Village rise from the unused industrial plots over the past few months, and the bike ride around the seawall from the Cambie Bridge down towards Science World has become a tour of some the most beautiful architecture in the city.  I will deeply miss calling this neighborhood my "permanent" home.
Of course, with the Olympics being a huge political and financial debacle, forethought is critical.  I can certainly understand the need to crack down on anchoring given the situation; hotel rooms are pushing up to $5000/night during the games!  Anyone within boating range would/should/will jump at the chance to come and spend a few days staying on their boat free of charge, anchored pretty much directly in the downtown core of Vancouver.  There's a serious potential there for chaos, with hundreds or perhaps even thousands of boaters of various skill levels attempting to anchor in the notoriously foul weather of February.  A single dragging anchor can mean many thousands of dollars of damage to a boat… or more importantly, to other boats or property nearby.  The city would be crazy to stand by and let it happen, which is why I've been saying for months that there'd be absolutely no way they'd allow us to stay on, unfettered, through the Olympic games.
So what does it all mean for me?  Well, when I first heard the news I took it as bad.   After reflection, I have now I have come to realize that it's just the change of a chapter for this lifestyle; sometimes you get to pick when the next chapter begins, and sometimes you just have to roll with it.  I've grown very complacent in the past few months, settling in to the easy life here in downtown Vancouver.  There are groceries, laundry and many coffeeshops and restaurants within an easy walk.  If I want to go to Canadian Tire, it's a hundred-meter row followed by a three-block bikeride – anchoring anywhere else that could be a two-kilometer row followed by a five-kilometer bikeride, or even much further.  I'm already in decent shape, but I suspect that I will be in much better shape by summertime.
When I get my anchoring permit on January 4th, it will be valid for twenty-one days, meaning I will have to vacate False Creek on or before January 25th, 2010.  Normally I wouldn't wait until the last minute, but I have obligations here in town on the 23rd, and I am hoping to travel a bit earlier on in the month.
To be clear, this isn't the end of an era – the permit only really says that I have twenty-one days in which I can stay in False Creek out of any sequential forty days.  I can return to anchor False Creek in March, ideally just after the Olympics finish, but at that time the forces-that-be will have switched over to the summer permit rules.  In the summertime one can anchor in False Creek for fourteen days out of any consecutive thirty days with a valid permit.  Anchoring permits are free; the only thing that really changes here is my stable, unmoving spot, where I have been squatting at anchor without a permit for the past five months or so.
So now, on top of my usual pile of duties, obligations and stresses, I have a half of a month to finish all of my maintenance tasks, tie off any loose ends in town and find a new place to live for a month or so, and my ability to stay in one place for months at a time has been more or less permanently removed.  As of January 25th, I will officially be a nomad!