A confession: I am a bike nerd. I have never actually owned a car, and at the rate things are going there's a distinct possibility that I never will.
As a bit of backstory, I grew up in New Brunswick where having a car meant freedom but also slavery, or at least indentured servitude. Insurance rates for young male drivers were insanely high, only dropping to reasonable rates after age twenty-five.  If you wanted your own car you had to either have very generous parents, a (non-existant) high-paying job, or you had to spend all of your free time working at whatever minimum-wage job you could land. Since my folks were big on teaching me the value of a dollar (thanks, by the way), I resigned myself to the fact that I wouldn't own my own car until after age twenty-five, and drove my mother's Mercury Tracer hatchback around whenever she'd let me.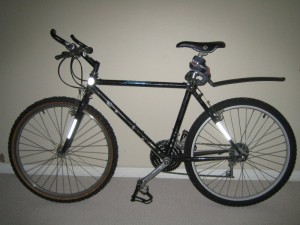 Just before I actually turned twenty-five, I moved to Calgary, Alberta. Calgary is very much a car-centric city… unless you live and work in the downtown core, which is where I along with nearly all my friends lived and worked. Combined with a great public transit system, there wasn't really any need to own a car. That 'downtown' mindset prevailed through a move to Vancouver, which also has a great public transit system. Still, walking and transit are restrictive, and in about 2005, inspired by the fitness and social agility of a few friends, I decided to become a "bike person".
Once you've pushed past the first six months of getting into half-decent shape, and you've realized that suddenly any point in the city is reachable by self-propulsion (often faster than by any other method of transport), then – then comes the realization that bicycles are simple machines, and with a bit of maintenance or upgrading they can be strong, reliable friends. Very much like Robert M. Persig's famous message, there is much joy in keeping the machines tight and tuned, and I fell headlong into the world of bike-nerddom.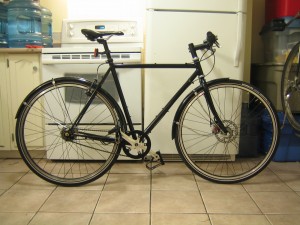 My first adult bike was an ancient, beat-up mountain bike given to me by a friend years prior, that I had lugged around from apartment to apartment but never really ridden. Once I made up my mind to get off the couch, I rode that bike to and from work for about a year.  I slowly upgraded from fat knobby tires to 'slicks' to 'skinny slicks', learning as I went that my initial idea of the "perfect Vancouver commuter bike" was quite far off from reality. Sooner or later, foot retention became an obvious choice, and fenders became beautiful to me.
Then one rainy day I slammed into the back of a BMW – at the time I was sure it was the driver's fault, but upon later reflection I'm not so sure it wasn't all me. I rode off (mostly) unharmed, but later I found that the impact had cracked the age-brittle aluminum frame of my commuter bike, and it was no longer safe to ride. I knew by this time that a bike would continue to be a big part of my life, so in early 2006 I bit the bullet and had Ed and his wizards at Mighty Riders build me the "perfect Vancouver commuter bike".  It was a steel Surly Cross-Check frame, built up with a Shimano Nexus-8 internally-geared rear hub and a disc brake on the front wheel.  Nearly weatherproof!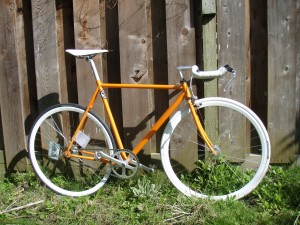 However, within a year or so of riding the new bike, I was bitten by the track bike bug. I went out to the Burnaby Velodrome with Trent and rode a few times on the steeply-banked wooden track, but concluded that while track racing wasn't really for me, riding "fixed gear", with no gears and no coasting, definitely was. It can be difficult to explain the zen state of riding a fixed gear bicycle – it feels a lot more like running than riding a bike, since you use your legs to both accelerate as well as modulate your speed. If you want to go slower, use your leg muscles to force the bike to pedal slower. The feeling of riding a perfectly-tuned fixed gear bicycle is incredible, as though this simple, elegant, rattle-free machine were more an extension of your body rather than an accessory; more a katana than a shotgun.
So, I built up a track bike from parts purchased on eBay at a steep discount – a KHS Aero Track frame, Sugino cranks, and a wheelset built up around Phil Woods track hubs – and rode it hard for the next few years. I have to say that I really enjoyed the act of building a bike up with my own hands, knowing that it would carry me reliably from home to work and anywhere in between. I named the bike 'Creamcycle', shelved my black bike for rainy days, and put several thousand kilometers on her as my main method of transportation.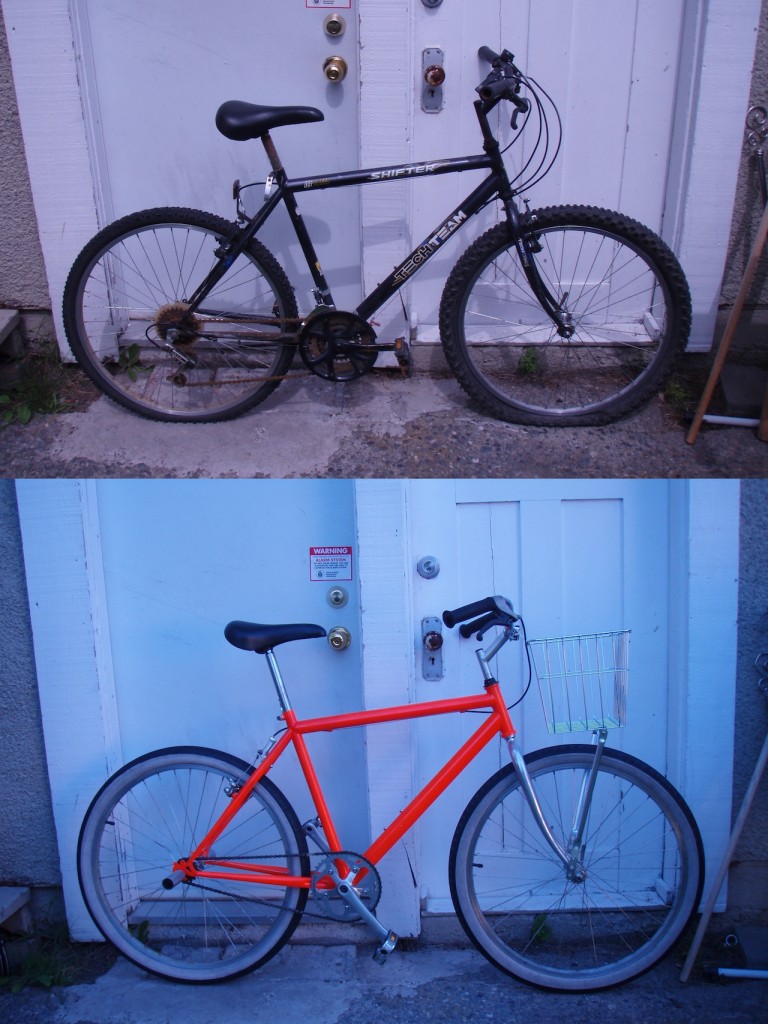 As the summer of 2008 drew nearer, the Burning Man Festival approached.  A bike is a necessity in the Black Rock Desert, but not a good bike as the desert environment kills bikes in very short order.  I set out to find an appropriate bike to modify for the task; I searched for a long while, but was unable to find anything that was even remotely up to the job. Eventually I widened my search to include bikes that would require a complete rebuild, and at a Main Street junk store I found the black mountain bike in the photo on the right, for which I paid a whopping $25.
I tore the bike down to the bare frame, sanded and painted it, then reassembled the bike with spare parts and supplemental bits, buying old, used parts as much as possible. I spent many hours in Our Community Bikes learning the ins and outs of rebuilding a bike, but even with the hours of shop time the grand total in costs for the bike ran me somewhere in the vicinity of $150, with the most expensive component being the new basket at approximately $35.
The design of the rad playa cruiser was carefully considered – wider 'beach cruiser' tires to handle the sometimes-soft surface of the Black Rock Desert, cruiser handlebars and flat pedals to enable riding in all forms of dress and/or states of sobriety, lock washers on all bolts to prevent bits shaking loose, and extra-thick grease on all the (repacked) bearings. In my opinion however the most important feature – and incidentally the most inexplicably absent from the vast majority of playa bikes – are the BMX-style stunt pegs on the back axel.  With the stunt pegs, I can 'double' someone on the bike if needed. How useful is that?!  "Heading to the temple?  What a coincidence, me too!  Hop on, baby!"
On a roll at this point, the next bike I built was a singlespeed road bike for a close friend who was still riding her hand-me-down mountain bike, similar to my original commuter. We picked out an appropriately-sized bike together at a bizarre private bike junkyard-slash-workshop on Main Street, getting a better price on the frame by sitting on the shop floor and stripping off all the components and leaving them with the previous owner for resale. Then, using mostly parts from my closet and a decent track wheelset found on Craigslist I built up "Ghost", a sexy little number well-suited to both the the streets of Vancouver and the rider for whom it was built.
Life on a boat is very hard on a bike.  The constant exposure to salty ocean air accelerates corrosion, and even though the TIE Fighter has a great deal of storage, fitting a full-size bicycle into the storage lockers in the amas wasn't always easy or even possible. For at least a year after moving aboard I had my black "perfect bike" stored in an ama and the Creamcycle up on deck for near-daily use, but slowly the weather began to take its toll and I watched as she began to lose her luster, with the deep scratches from regular (ab)use turning from silver to the darker orange of rust.
I put the Creamcycle away in an ama and began using the black bike, but within a month of making the switch back to a geared bike I made a fatal mistake and left my bike – well locked, mind you – at a bike rack that I should not have. At some point in the night, a thief made off with the rear wheel and handlebars of my beautiful bike – incidentally the most expensive components. I researched replacement parts for a while but sadly concluded that I don't need two bikes, and that the best answer would be to sell the remaining carcass of the black bike to some bike nerd friends who would build her back up and put her to good use.
Finally, earlier this year I heard about Montague Bikes, a company in the States that makes folding bicycles with fullsize wheels! I had looked into folding bikes several times, but after trying a few I came to the conclusion that the small wheels on the average folding bike are better suited to short trips to the store, and not so much as a primary means of transportation around a city. With fullsize wheels, however, a folding bike could definitely solve the problem of storage (and, by association, weather-resistancy), while continuing to be a solid means of transport.
The Montague Boston turned out to be the be-all and end-all answer to my problems. Priced at around $800 after taxes and shipping, I could strip all the components off of the Creamcycle and build up a new bike around the Boston's folding fixed-gear frame, then build up the Creamcycle with the Boston's components and sell the resulting bike on Craigslist, minimizing my total expenditures. Almost all of the Creamcycle's components fit onto the Boston frame without hassle!
The result, show here in all her glory, is the best bicycle I can come up with given my style of cycling and difficult storage and transportation needs. The new bike, named 'Harlequin', folds in half to make the row to and from shore easier, and when folded she stows away quite handily into a wing locker on the TIE Fighter. The first few weeks with her were a little trying, as I slowly worked out the kinks in fit and sizing, tightening the bits that creaked and rattled and replacing any components showing signs of rust with similar components of stainless steel, but I think she's finally out of the woods and settling into the final configuration that she'll keep for the next few years.
So far, I'm very pleased with the new build. 'Harlequin' is a fixed gear, with a gear ratio of 49/17, giving me 75.4 gear inches, or 32.6km/h at 90RPM. To date I have not met a hill in Vancouver that I cannot climb – though I know better than to brag the same about the North Vancouver hills!
Longer term, we'll have to see what happens. I doubt I'll be on nicely paved city streets and bike paths much in the next few years, so perhaps the racing wheelset and fixed gearing will end up being a mistake. Still, so long as I've got a beautiful bike I know I'll find any excuse to ride around town… especially with the summer approaching so fast!