Ok! Part four of updates, and then hopefully I can return to a more regular style of blog posts. I know I keep saying that. *sigh*. Without further ado: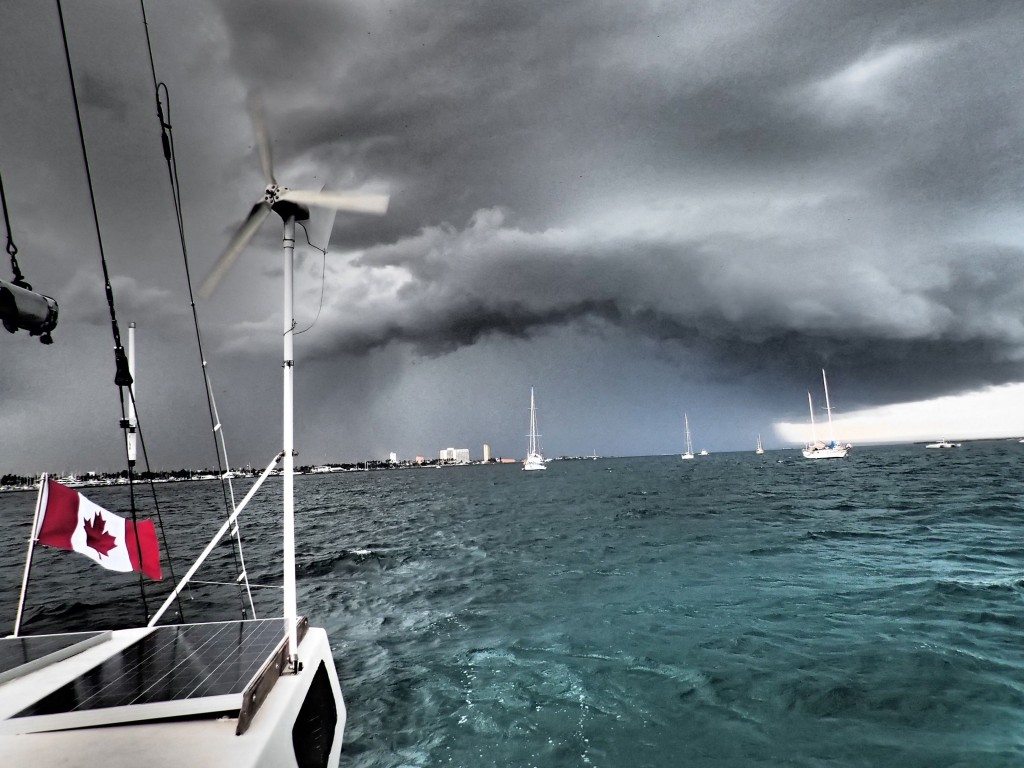 The summer brought some intense weather shifts, including some of the first rain we'd seen since our arrival in La Paz in February – I guess I should have been tipped off by the cactuses and tumbleweeds, but the amount of precipitation here still took me by surprise. Once the season shifted into high summer however, the heat of the day combined with the extremely warm water (sometimes it would be 38º outside and the water would be 23º, warmer than most swimming pools!) made for some crazy meteorological events. We were treated with regular lightning storms and sudden shifts in wind speed and direction, not to mention a couple of hurricanes that narrowly missed us.
In this photo, a storm cell is crossing nearby to the south. At the time this photo was taken, the wind was blowing briskly towards the cell, but about five minutes afterwards the wind abruptly died and then within two minutes was blowing probably 40kn in the opposite direction! We were caught unprepared, and several items blew off the deck and I had to dash out in the RIB to retrieve them.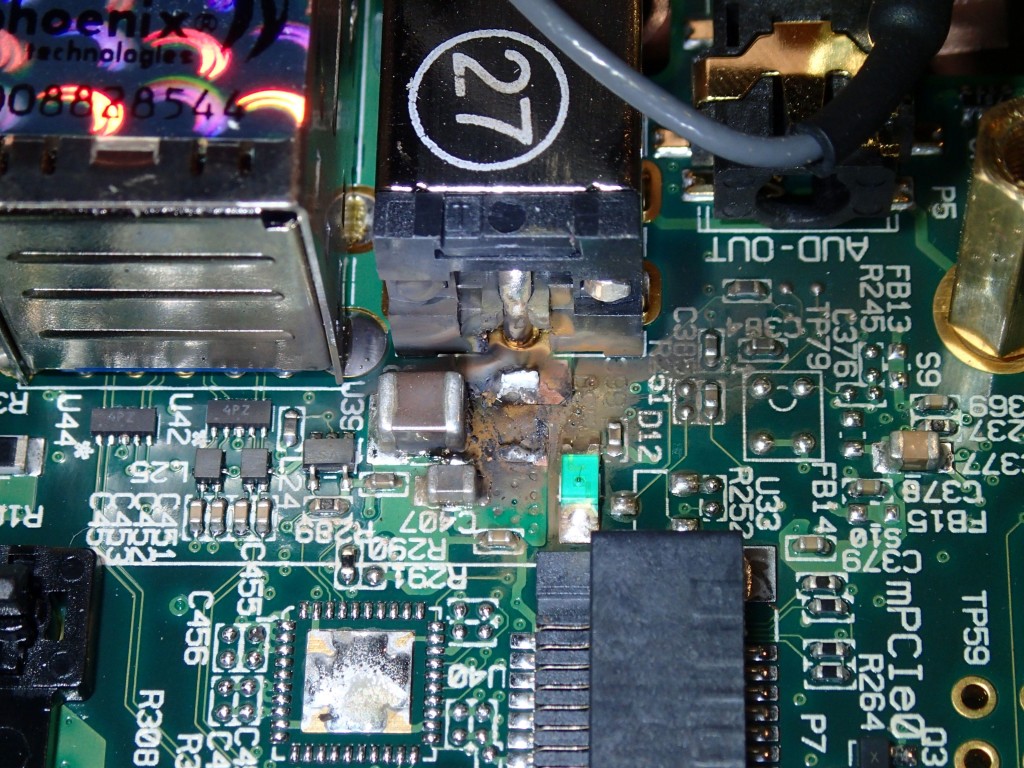 While I was in Canada, I ordered a low-power Fit-PC3 computer to build into the walls of the TIE Fighter. The Fit-PC3 is a 12v-native computer very light on power consumption – set up with an internal SSD drive, it draws only  6w (1/2 an amp) at idle. I paired it with a two-terabyte external drive that automatically spins itself down when not in use, and am quite happy with the results.
Unforutnately, when I went to install the machine I didn't pay close enough attention to the polarity of the power supply, and hooked the power connection up backwards. Immediately there was a flash and a pop and suddenly the air was filled with the acrid smell of burning electronics.
Fortunately I'm no stranger to electronics repair, and with a bit of research and an email to the manufacturers of the Fit-PC3, I learned that the component that had exploded was a simple ferrite bead, meant solely to keep stray radio-frequency energy out of the computer. This bead is just a failsafe, sort of like a fuse, and I could just 'jump' over the section with a bit of wire for the time being. An hour or so with the soldering iron, and the computer lives.
…of course, that computer also now lives in a cupboard with a strong radio. I still need to track down a replacement ferrite, as I've seen three crashes so far when I've keyed up the mic on the ham radio on certain frequencies.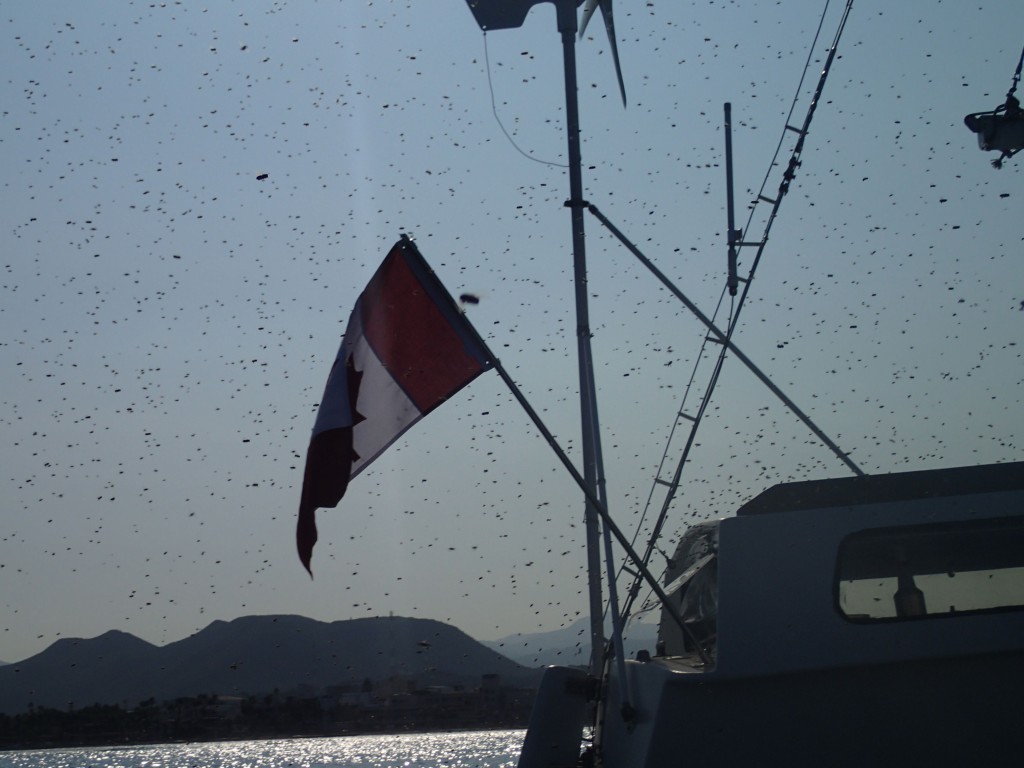 One morning as we left the boat in the RIB to go for coffee, we realized we'd forgotten something at the main boat so we turned around. When we arrived at the TIE Fighter, we found the boat swarming with bees! We estimated around 10,000 honeybees in the air around the boat.
Not knowing what to do, we went for coffee and solicited opinions from a few other cruisers, who brought to light one very important point that we somehow hadn't thought of… if the bees were to get inside the boat, they might not want to leave! We had to return to the boat immediately to close up the doors and windows, hoping that they hadn't already moved in.
When we arrived back at the boat, the bees had landed… but outside. The internet tells us that this means the queen bee is somewhere in the middle of the literal pile of bees on the boat. We figure they were stacked six or seven deep in this photo! Fortunately, they decided that the boat wouldn't make a great spot for a new hive, and within an hour or two of this photo they'd all moved on.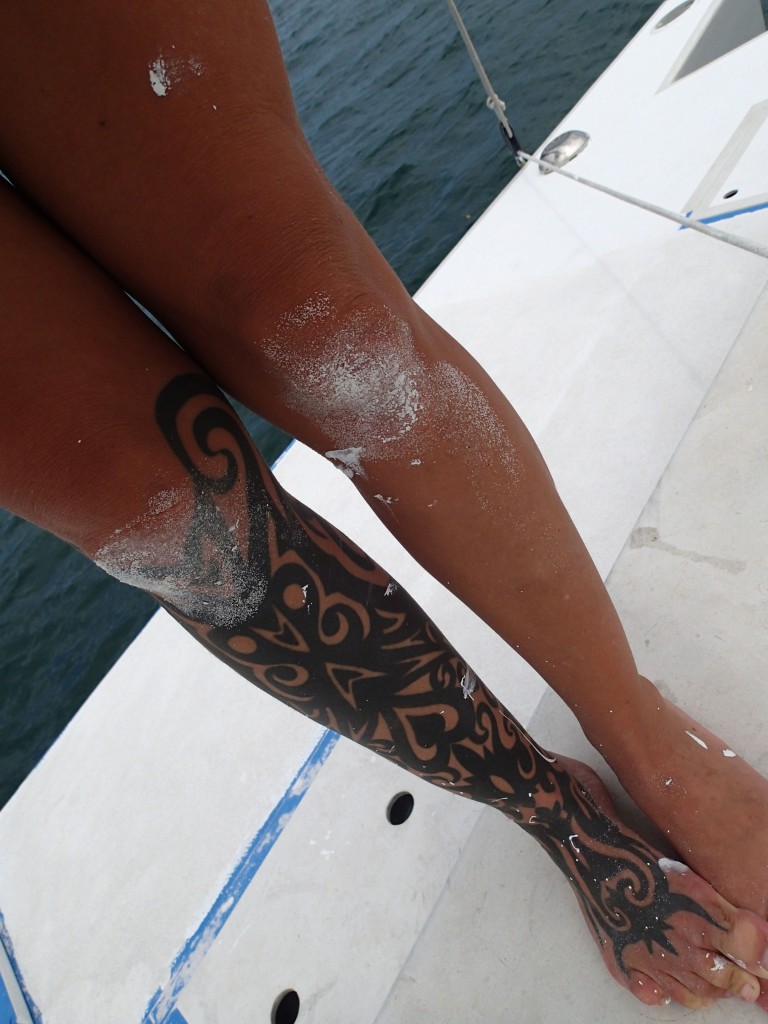 While I went back to my day job schedule, Miya undertook the massive task of painting the TIE Fighter's decks with anti-skid paint. We had collected a large pail full of white sand from a nearby beach, and then sifted and washed it, allowing it to dry overnight in the boatyard on a clean sheet of plywood. In the end though we decided that we'd get a better-looking result from "marmolina"; fine crushed white marble available at the local fereterias for about $0.50/kg.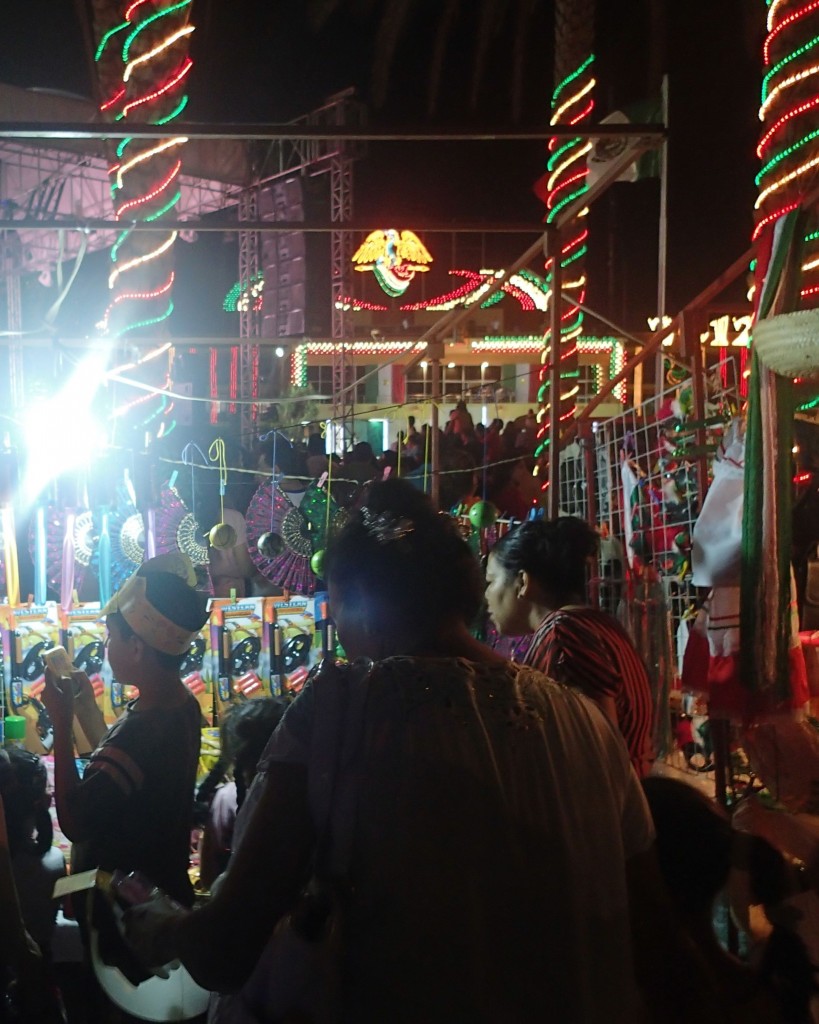 The celebration of 16 de Septiembre (Mexico's Independance Day) came along, and rather than hole up in our little box on the ocean, Miya and I decided to brave the crowds and go see the fireworks display. The display lacked a certain… safety standard? that we had grown accustomed to in North America – the main celebration was in a town square flanked on three sides with two-story buildings, and the fireworks were launched from the roofs of those buildings, exploding directly over the square!
Our Honda EU2000i generator has given us incredibly reliable service for the past four years or so, but apparently one should not leave it for a Mexican summer with a third of a tank of gasoline… when I went to start it up for the first time in many months, it would not start. I quickly realized what the problem must be, and using this very well-written step-by-step howto, I tore the generator apart and cleaned the carburetor. Just like that, the little Honda purred back to life.
The heat of the summer was intense and constant, and often we had to spend the hottest portions of the day in the water just to maintain our sanity! The underside of the TIE Fighter made for a convenient gathering space, and using a series of ropes and floating toys and platforms we created a place of refuge from the afternoon sun.
In this photo Miya is swimming with one of the schools of fish that regularly gathered under the boat. Actually, if I go looking I bet I have a video that might show the situation a little better:
Crazy how you can see them avoiding the anchor line! We'd like to identify the species of fish, and then see about catching some for grilling or pickling.
Miya found an inflatable toy at one of the swap meets; three inflatable bladders joined at the center by a square of mesh, forming a floating recliner. This, paired with a Canadian Tire 'Party Platform' that we picked up on clearance just before leaving Canada in September 2011, formed the seating portion of the underwing. You can also see my Traynor TVM-10 cordless rechargeable guitar amplifier in the nets above, hooked up to an iPhone and playing appropriately chilled house music down into the watery tunnel.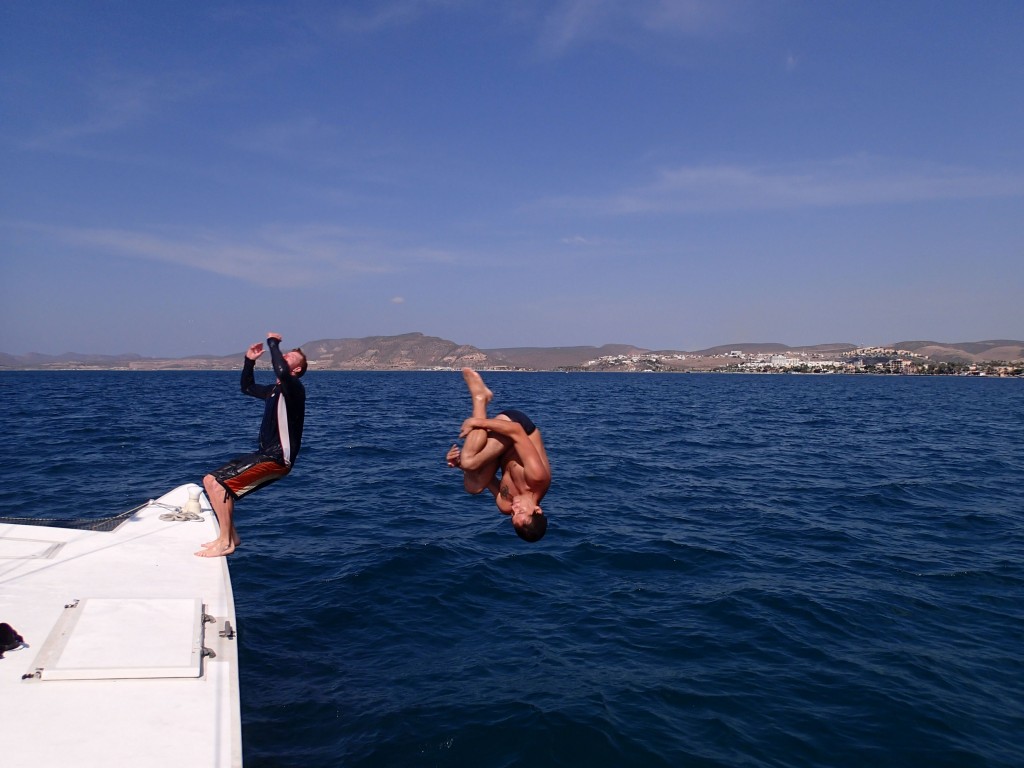 Of course, with freshly-added antiskid on the topsides, the boat herself – having a good meter of freeboard – made an excellent water toy. Miya had only really learned to swim in the last year or so, but managed to learn to dive in one day!
She was so impressed with her diving that she decided to try her first-ever backflip off the boat also… to a little less success.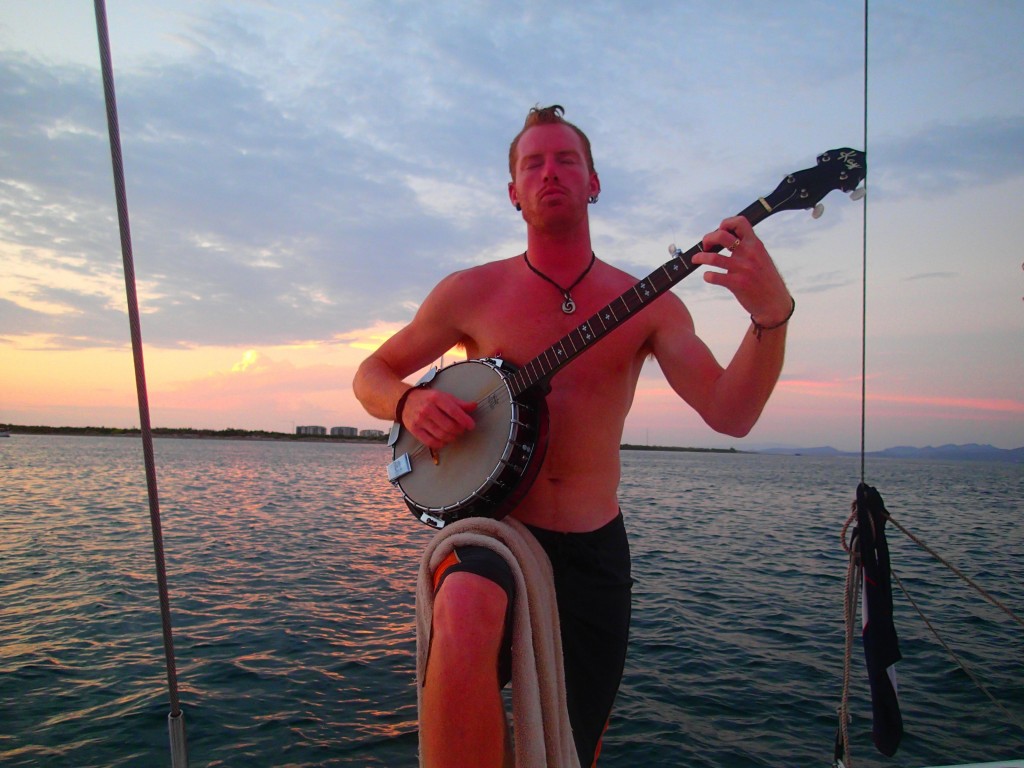 One of my absolute favourite parts about the cruising lifestyle is the willingness of the participants to pick up new musical instruments and throw themselves into learning. Our friend and neighbor Malcolm, an Australian vagabond living on 'Wind Pirate', picked up a banjo in a trade with another boater and within days was plucking away.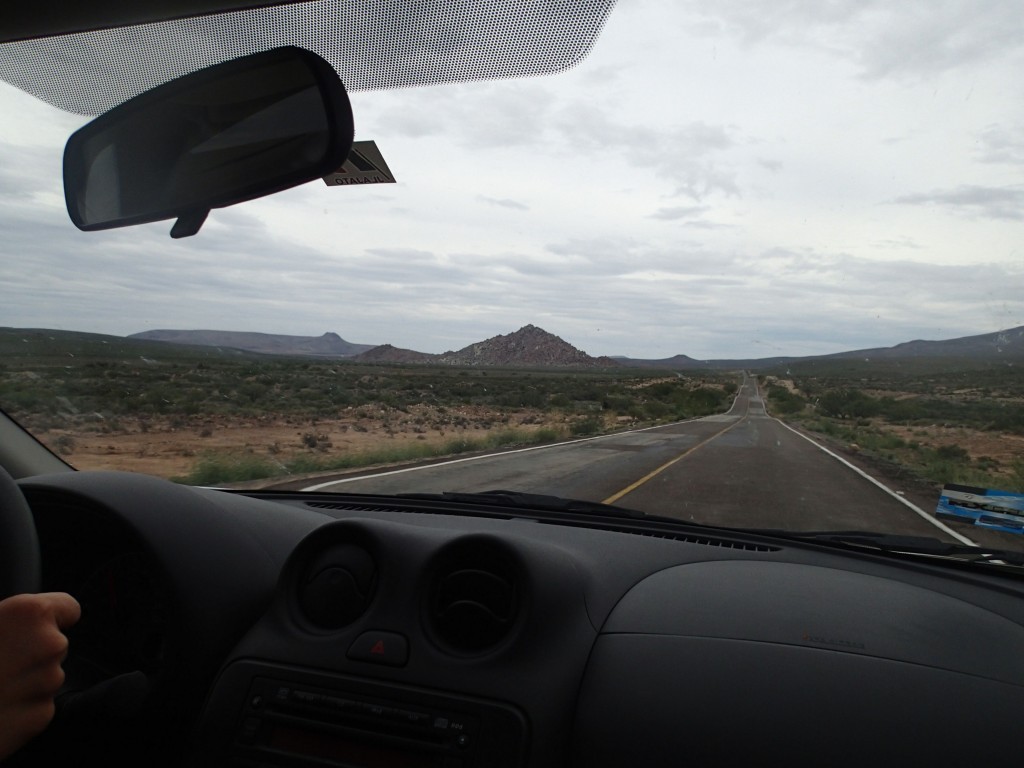 When we heard about the Wasteland Weekend festival in California, the idea immediately spoke to both of us – a four-day party in the desert, sort of  like Burning Man but more Mad Max themed, if that even sounds possible. With our Wilderness First Responder first aid certifications, we figured if they were interested in having us on as volunteer medics we'd kill a few birds with one stone; go on a road trip, pick up some much-needed supplies from the states, get some practical medical experience and go to a rad party! We rented a car and prepared to head out… but of course, what with it being hurricane season, a tropical storm had formed south of the peninsula and was threatening La Paz. We couldn't leave the boat unattended until we were sure that it wouldn't turn into a hurricane.
Fortunately, the system weakened, but not before dumping rain on southern Baja – and if you haven't seen what a major rainstorm does to a desert, it's a crazy thing indeed!
In this video, we have been stopped by a washout – the road in front of us has been replaced by a river of brown water flowing at a pretty fast clip. We watched as a compact car was swept a few feet sideways – but in the true spirit of "drive 'er like a rental", we decided to take the risk and we crossed. If you watch closely you can see water come up over the hood of the car at one point!
We arrived late to Wasteland Weekend but wasted no time whatsoever getting into the groove of things. Having come internationally we had no weapons to defend ourselves from the mutant / zombie uprising, and so we decided that we were clearly 'wasteland aristocracy' and as such had no reason to carry large weaponry of our own.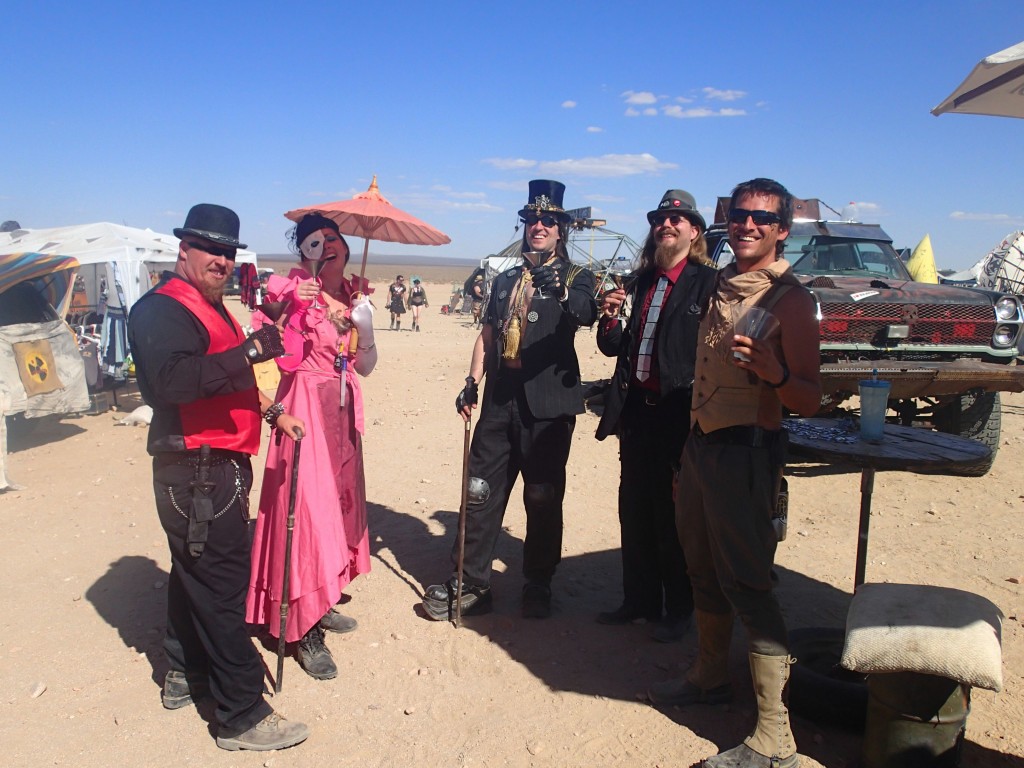 With this thought in mind it wasn't long before we ran into some kindred spirits, fellow patricians of the aftermath, with whom we shared libations and cheer. The Party Hard Corps crew are a fascinating group of partiers, gamers and drinkers from the midwest, who like us traveled to the desert for a few days of debauchery.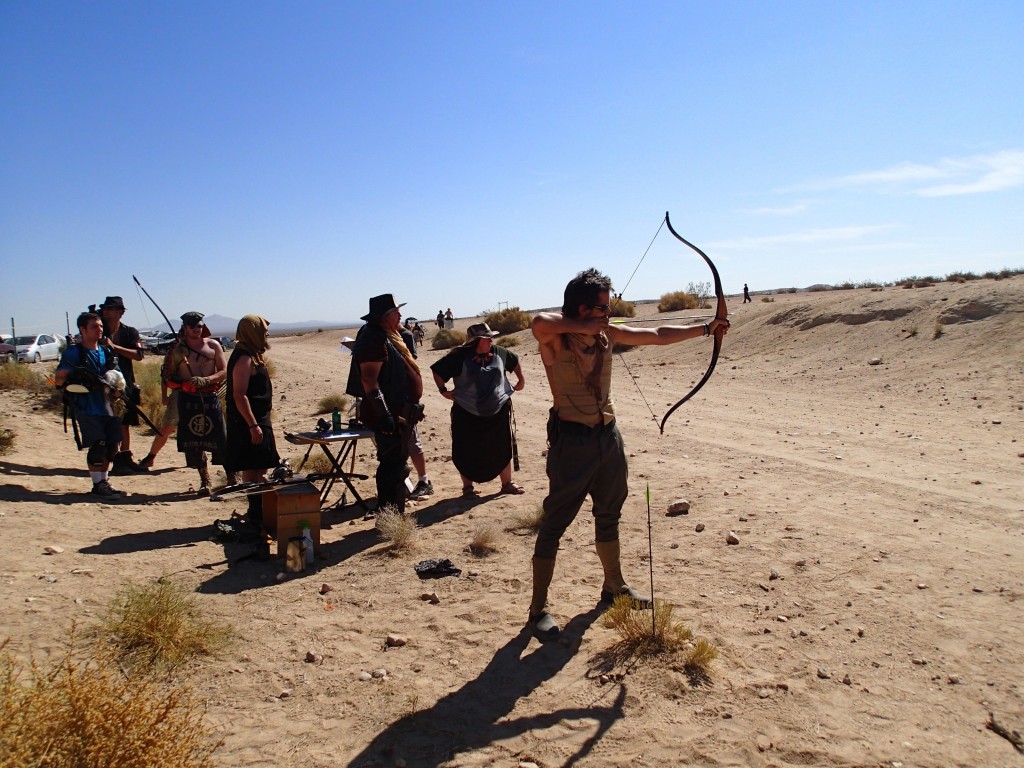 There were many (semi-)organized events, including robot battles and jugger matches, but the one event I was most looking forward to taking part in was the archery competition. The rules were fairly simple – scoring was based on points awarded for your five arrows to a mannequin about thirty paces down a range. I was relieved to find they had bows available for loan, as I hadn't owned my own bow in many years.
There were three divisions, for different sorts of bows: recurve, compound and crossbow. I can say proudly that out of about forty or so competitors, not only did I win the recurve division, but I also had the highest score over all three divisions – 28 out of a possible 30. The prize was a little disappointing however; a large black t-shirt. Not my size and I refuse to wear cotton t-shirts. In retrospect I should have taken the shirt and re-gifted it to one of the Party Hard Corps guys or something.
In case you're wondering, we did stop at an archery supply store in San Diego on the way back to Mexico, purchasing two bows so that we can practice on the beaches. At some point in our travels we met a guy who swore by iguana meat; as we get further south we're thinking maybe that might be a good source of free protein…
Our medical shift was Saturday night from 10pm until 4am – arguably the worst possible shift if your goal is solely to party, but we got enough of that in during the previous night and the Saturday afternoon, and as both the new jacks on the scene and late to the party to boot, we were happy to help out and glad to feel useful. We were surprised at how few emergencies there were, to be honest – the partygoers seemed to self-regulate very well, and aside from a few scalds from fire-show screwups and a few cuts and scrapes, we weren't actually very busy! There was always something going on, but we never felt overwhelmed.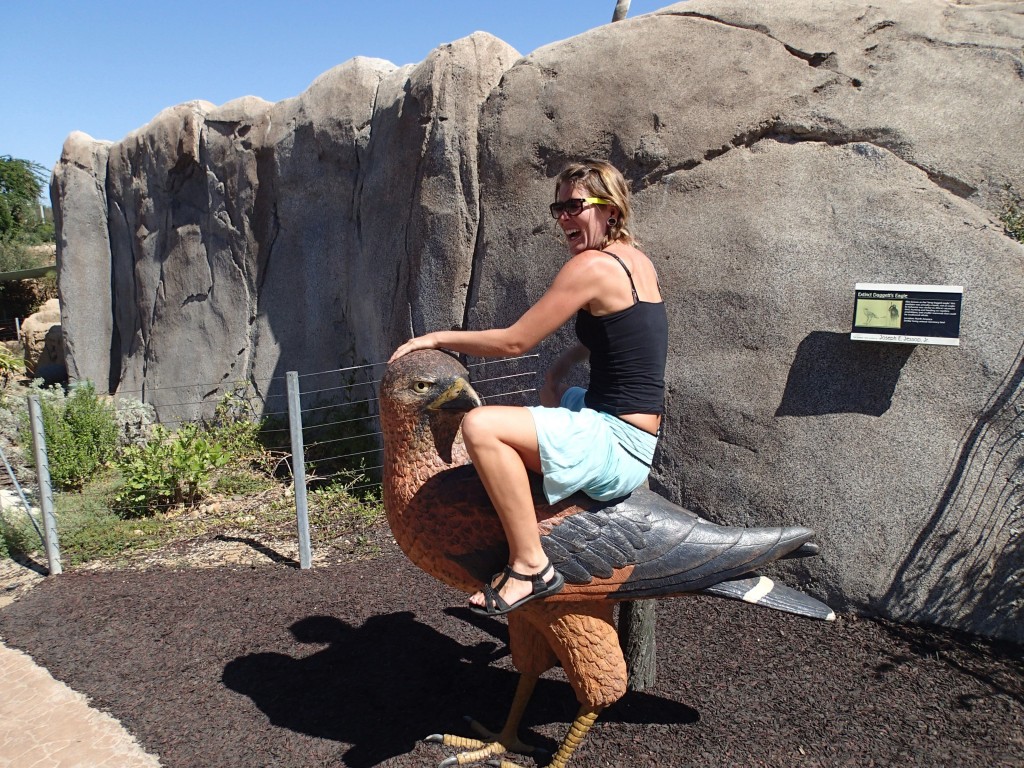 After Wasteland Weekend, we had a couple of days to spend in San Diego – we slotted one of those days to provisioning and shopping, but the second day was spent touring the San Diego Zoo. This was something Miya had wanted to do ever since we left Vancouver but somehow we hadn't found the time during the two months we spent in San Diego back in December 2011. Many photos were taken, but surely if you'd like to see a photo of a giraffe you can find one on Google Image Search. 😉
After a long but uneventful drive back down the Baja Peninsula, we settled back into our routine by immediately having people over for another party. In this photo, Scott is demonstrating his ability to do a full split!
In the foreground of the photo, next to our friend Mike, is one of Miya's margueritas, made in the "proper Baja style". For a perfect Baja cruiser marguerita, combine:
one part decent tequila (100% agave only, José Cuervo is NOT acceptable!)
one part triple sec
one part freshly-squeezed lime juice
That's it; serve with ice cubes if you have them. Do not blend. Do not rim with salt. Do not use lime bar mix or Fresca. Do not add simple syrup. Mix and enjoy!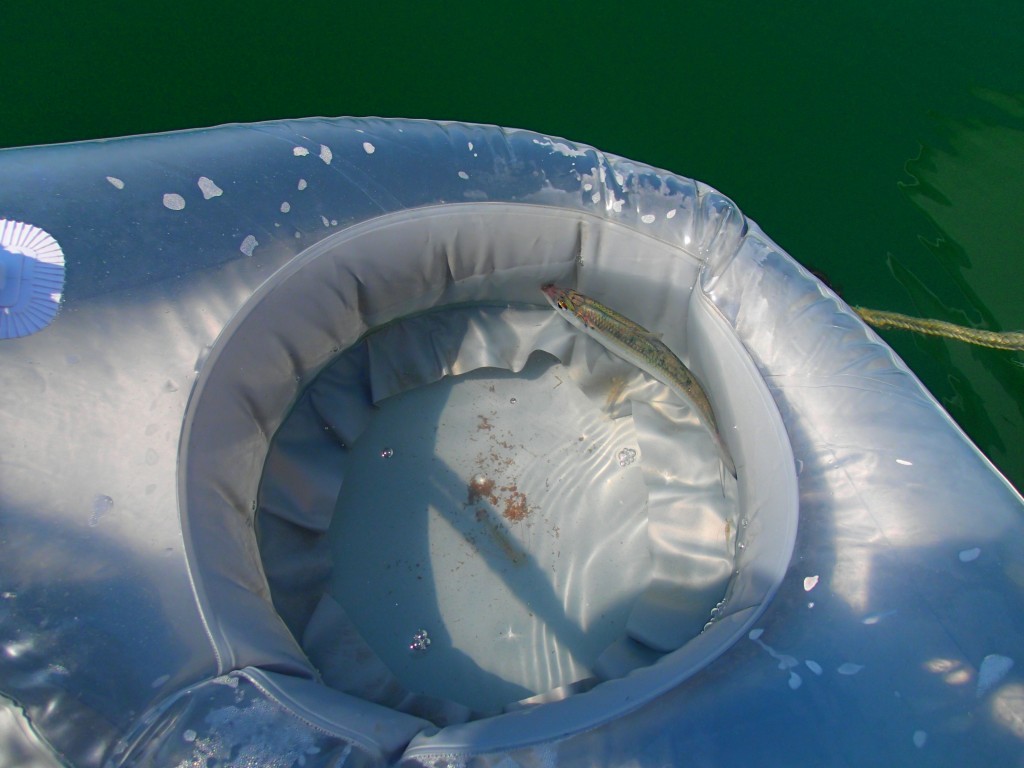 Whoops – we left the party platform deployed under the boat while we were in the states! When we pulled it up, the side-pockets were full of life. If you click on this photo, you can clearly see the large fish at the top, and several big, transparent, shrimp-like invertebrates swimming around in the captive pool.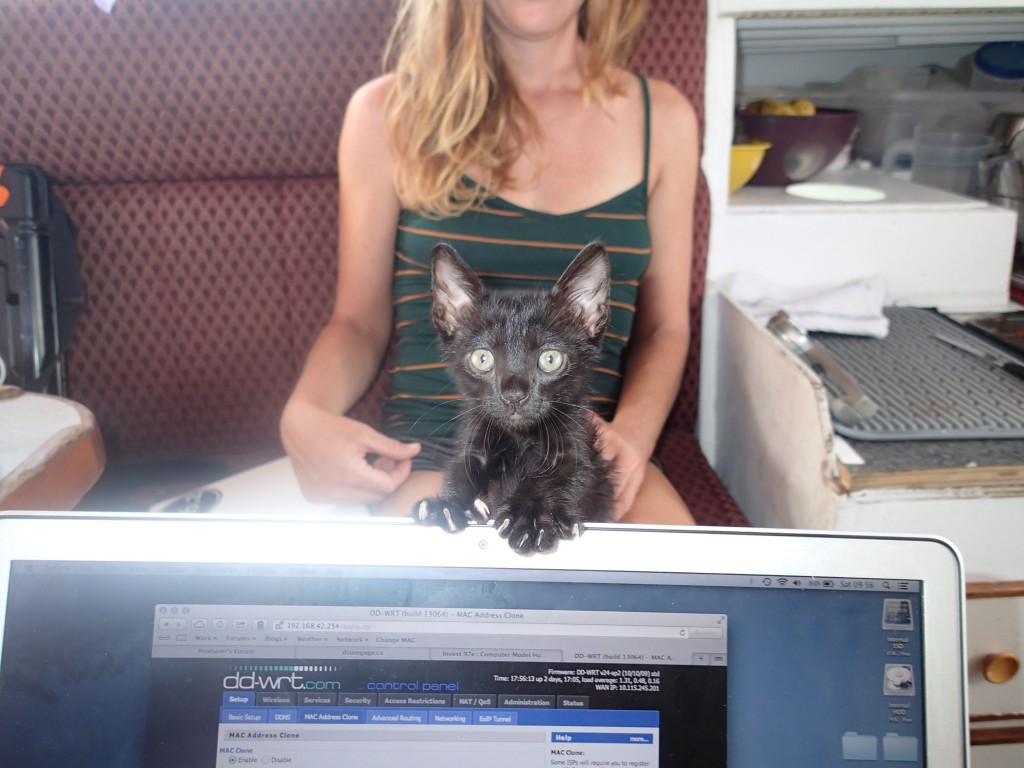 There's a really sad story here – but before it was sad, it was a very happy story. We adopted a scraggly little Mexican street kitten and added her to our boat-gypsy family. I'll tell the story of little 'Alice' in another blog post.
It turns out that the 'Zombie Walk' phenomenon is wider-spread than we'd previously thought, and La Paz actually played host to an entire horror-themed film festival entitled 'Morbido La Paz'. There are few things that Miya and I like better than an excuse to get dressed up and silly, so we put together the best zombie costumes we could with our limited boat resources and shambled out into the town.
Best part: wandering around for at least an hour looking for the meet-up point for the zombie walk, soliciting help from the other boaters over the VHF radio and getting drastically contrasting reports of where to find the rest of the undead. Fortunately when we finally did find the other zombies, we found to our surprise that instead of the expected dozen or so fellow walkers/biters, we found a huge herd of probably two hundred! We moaned and shuffled our way through the night in search of cerebros…
One of the things we brought back to La Paz from San Diego was a long-coveted item – an icebox conversion kit which would turn our little built-in icebox into a proper refrigerator, complete with freezer! The kit cost an arm and a leg, and came as a box of parts and a series of cryptic instructions, including a bunch of crazy tool requirements. I had to track down someone in the boating community who would be willing to loan me an industrial vacuum pump and a set of refrigerator manifold gauges. As it turned out, none of the tools were far away and even though the build took much longer than expected, our friend Bill on s/v Wandering Puffin was a huge help in getting the system up and running.
Now, for the first time since moving aboard in 2009, we have the ability to store food for longer than a couple of days at a time! What a huge step forward… though admittedly so far my favourite use of the fridge is making ice cubes. Sill though – just because nothing in our world can ever be completely normal – the fact that our fridge is a top-loading icebox means that we're forced to use an expensive vertical ice cube tray.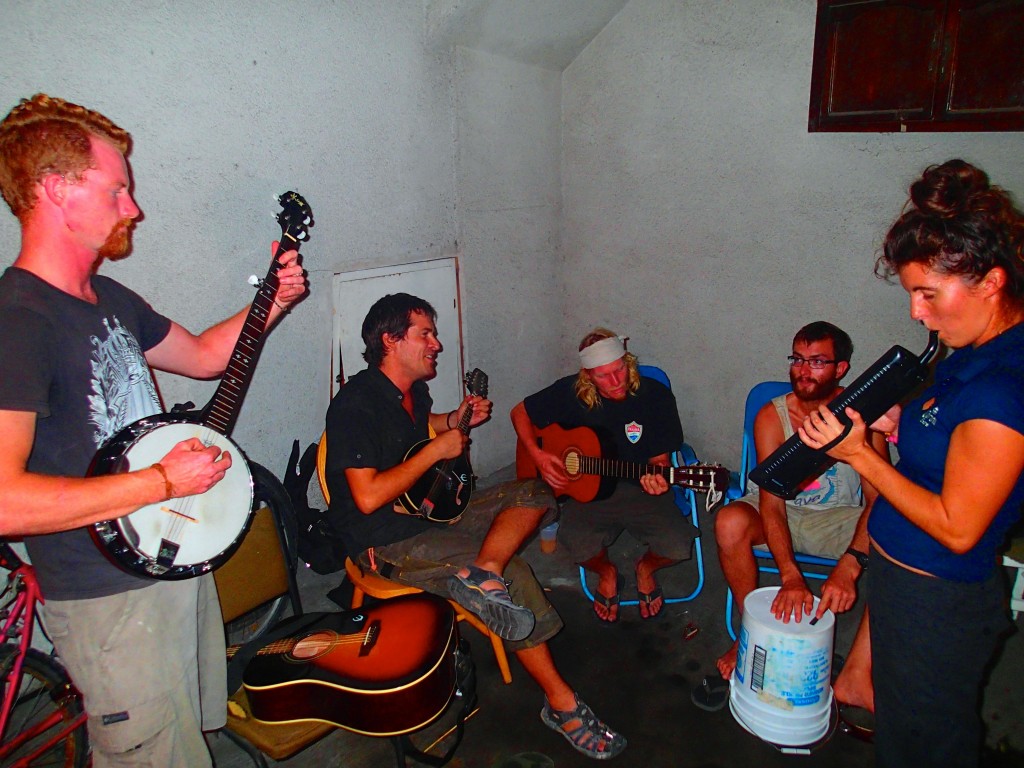 One of the sad facts of cruising life is the realization that no matter how much you like your new friends, everyone is traveling, and sooner or later we all have to pull up the anchor and move on. This photo is of some of our friends from the summer; Malcolm and Lowell left on s/v Libertatia for California, arriving recently in San Francisco, and Mike and Nia left La Paz for Mazatlan in their boat s/v Azul, making it across the Sea of Cortez without incident… and without an engine!
Well, I think that pretty much brings us back up to current. More updates to come soon!