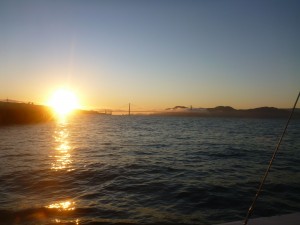 Now that we've been in sunny San Francisco for over two weeks, I guess I should blog the fact that we've arrived here safely. 🙂
The offshore sailing portion from Coos Bay to San Francisco Bay was mostly uneventful – the weather turned gloomy and damp and the winds shifted to a meandering northerly 10kn, and days at a time were spent drifting along at 3kn. For our new US friends, that's three nautical miles, or a whopping 3.4 miles per hour, and for the Canadians (and the rest of the world) it's a speedy 5.5km/h. Not exactly the kind of speeds that win you any races, but obviously enough we did arrive in SF safe and sound. The single most surprising thing learned during the five-day sail? Minke whales have terrible breath! We had one surface several times within about ten meters of TIE Fighter.
We anchored in the lovely Aquatic Park for the first few days while we got our footing, then motored over to Treasure Island when it became apparent that the Aquatic Park anchorage would be the best place to stay while taking our first aid course and we didn't want to wear out our welcome too early.
That first weekend I had the opportunity to spend a couple of days attending Hackmeet 2011, a gathering of technologists, cryptophiles and social activists at a hack space called Noisebridge near Mission and 16th Street. I got to meet a few folks with whom I'd only communicated online before, and met a few others in the process. I've been describing the event to non-geeks as "…a meet-up of the IT staff for the Occupy Wall Street movement". There were talks about everything from email cryptography to anti-forensics to effective tools for using the internet for social activism, with a particularly memorable presentation about open-source hardware for sex research taking the flow of the conference off into left field for a few minutes. The Noisebridge staff seemed a little bit nervous at the sheer number of people in their space – I'd put it at around 150 at peak – but they stayed calm and everyone was very well-behaved.
Noisebridge itself was inspiring – I really wish something like it had existed when I was a teen. The space was a large upstairs warehouse space in a busy ethnic neighbourhood, with the main area populated with row after row of shelving units jammed with members' personal projects – everything from stencil art to clothing [de]construction to lasers and makerbots and arcane old computer hardware. Honestly, just from the idea of a "hackspace" I would have expected more computer gear, but it was surprisingly free from the clutter of old broken computers that seems to fill every hacker's bedroom. I particularly liked this wheelchair robot – note the "NOT THREE LAWS COMPLIANT" warning posted on the front.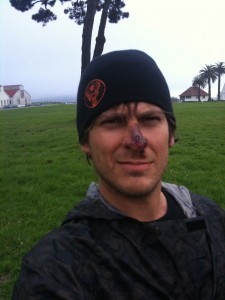 Once the Wilderness First Responder first-aid course started, life got quickly more complicated. The class was held in the Precidio, which was a real treat aesthetically but a bit of a pain to get to every day, with two busses and about a kilometre walk between us and the class. That is, at least until we met Jon and Mark, two classmates who were conveniently staying at a hotel just two blocks from where we were anchored! Jon gave us a ride to and from the class every day, making things a lot easier – not to mention cheaper, those bus fares add up after a while.
One really nice thing was that the bulk of the classroom work for the course was held in a yoga studio in the back of Planet Granite, a gorgeous rock-climbing gym and fitness facility. We were given breaks of ten to twenty minutes every few hours, and about half the class started bringing their climbing shoes every day and spending the breaks on the very extensive bouldering walls. The first day with my shoes I tried too hard to keep up with the children's climbing class and could barely lift my arms for three days after – but with concerted effort over a few days I found myself regaining my former levels of bouldering "skill", climbing most of the V2-rated routes, and finally mastering a couple of V3's. Like any climbing gym, all I could do was watch in awe as lean, skinny pros made their way up V10's and V12's.
The class itself was very hands-on, and we spent about two-thirds of the time in classroom lectures and the rest in 'scenarios', responding to simulated emergencies. Many of these situations involved makeup to make them seem more realistic, which made us feel more confident that we wouldn't panic if faced with similar injuries in real life. Everyone took turns being the rescuers and the rescue-ees, and we all got very comfortable diagnosing and triaging major traumas, documenting vitals and establishing trends, and preparing patients for evacuations whether or not advanced medical help would be available.
Still, the days were long. Miya and I got up each day at 6am to be ready for the 8am class start, and by the time we got home at 7pm we didn't have much energy left for… well, for anything really. Most nights found us asleep before 10pm! This was the first time I'd been in a full-time class since college, and my body had a really hard time adjusting to the change. The fact that the course only gave us one day off during the whole ten days was difficult; we all agreed that one day just wasn't enough time to completely rejuvenate.
The course culminated in a night-time scenario where we were presented with a multi-casualty incident; a plane crash in a heavily-wooded area. We organized ourselves into an incident response unit, performed a search-and-rescue sweep and found and treated all of the victims – all of which were strangers to us, and in full theatrical makeup, with bones and blood and intestines (technically condoms filled with oatmeal, but surprisingly realistic) everywhere. The hardships of such a rescue were magnified when later on it was discovered that the woods were infested with poison oak. I apparently got away unscathed, but many of our classmates – Miya included – had a rough time of it. We spent the next class day washing all of the rescue gear down with Tecnu.
The class is now finished, and slowly we're recovering and returning to normalcy. The boat is anchored at Treasure Island once again and we have a 21-day extended anchoring permit to stay here, though we have yet to decide whether or not we'll still be in the city in 21 days, or whether we'll be headed off to Monterrey, Big Sur, San Diego and beyond. For now I intend to spend much of my time working on contract work and experiencing all that San Franciso has to offer – so far it seems very similar to Vancouver, with the notable exception of my not having had to wear socks for the past week.
What up, San Fran? Send me your activities! I want to go out and do things!