Soooo, once again I've been too busy to update the blog on anything approaching a regular basis, and now I'm left with a tonne of things to post about.
It's currently 7am on a Saturday morning, and I've been driven out of bed by the noise of dozens of little fish hurling themselves out of the water and at the side of the boat. Currently we're surrounded by hundreds of seagulls, pelicans and a few sea lions all feasting on what apparently is a huge school of these acrobatic little fish. WTF, nature. I'd prefer another couple of hours of sleep, but the coffee pot is on the stove and I have a list of projects to work on today, so I guess an early start isn't such a bad thing.
(update: it's now three weeks later and we're just about to leave SD, and I'm *still* trying to get this post finished. switching over to the "gallery" format again to save time.)
(update #2: it's now almost a month later again, and we're in La Paz, Mexico with a billion more stories to tell so I'd better just get this one finished as quickly as I can…)
I've actually made some progress on the studio front, something I've been trying to figure out since moving onto the boat. I picked up a pair of decent headphones and a little technological miracle, the Focusrite VRM Box. This box simulates the sound of sitting in a tuned recording studio (or bedroom studio, or even a living room) in front of a user-selectable range of different speakers. Sure, it's not really the same as my previous techno studios, but it's 90% of the way there – and for a boat that's pretty incredible.
With a reasonable monitoring setup, and finally having a laptop capable of handling large audio files, I finally got around to putting in the hours and hours of editing needed to launch the Sequential Circus Podcast! This is big news; forty-five high-quality recordings of original live electronic music online so far, with more to come soon. It's about time, too – we've only been talking about launching the podcast for… oh, almost five years now. The next show, Sequential Circus 10, is coming up on January 21st, so if you're in Vancouver you should definitely come check it out.
(edit: Sequential Circus was a fantastic time – there are some of Luke Szczepanski's fabulous photos on Flickr if you're interested).
Anyway. We're in San Diego now! It's 2012!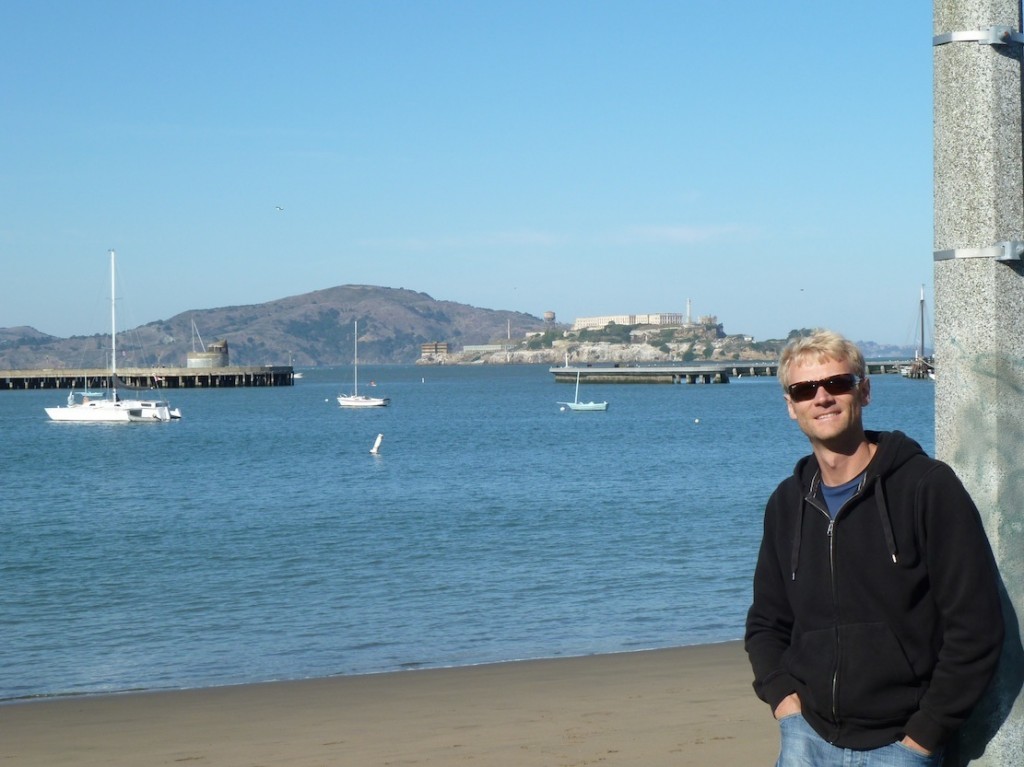 San Francisco was lovely, and to be honest I could probably have happily stayed there indefinitely. The energy of the place, the politically-charged, creative, outgoing flow of it all spoke to me. It was fascinating how many places were familiar to me from television and movies. Getting to spend time with so many people for whom activism and productivity and creativity were more ways of life than dinner-table conversation topics was incredibly inspiring! It seemed like everyone I met had a grand project that they were working on, that they were passionate about, that they wanted to share – by contrast, in Vancouver it often seems like people downplay their interests, as though it weren't cool to be working on something big, or maybe that it wouldn't be polite to be excited about it. Strange!
We wore out our permits at the two SF anchorages and moved the boat across the channel to Richardson Bay in Sausalito, where we anchored near the ferry terminal for a few days. Despite very little protection from the northeast, with some fortunate weather it was quite calm, and once we managed to pick up a free wireless network nearby and got a lot of work done as well. Sausalito is very pretty, with hundreds of boats on mooring balls and a very laid-back atmosphere – it was clearly a community of artists and ex-hippies. This photo shows a couple of dozen mailboxes near a dinghy dock, each one painted brightly with scenes of waterways and landscapes, each addressee a live-aboard sailor on a mooring ball in the bay nearby. What a difference from Vancouver, where live-aboards at anchor are often seen as vagrants or 'floating homeless'! In Sausalito, live-aboards are clearly a respected – or at least tolerated or even acknowledged! – part of the community.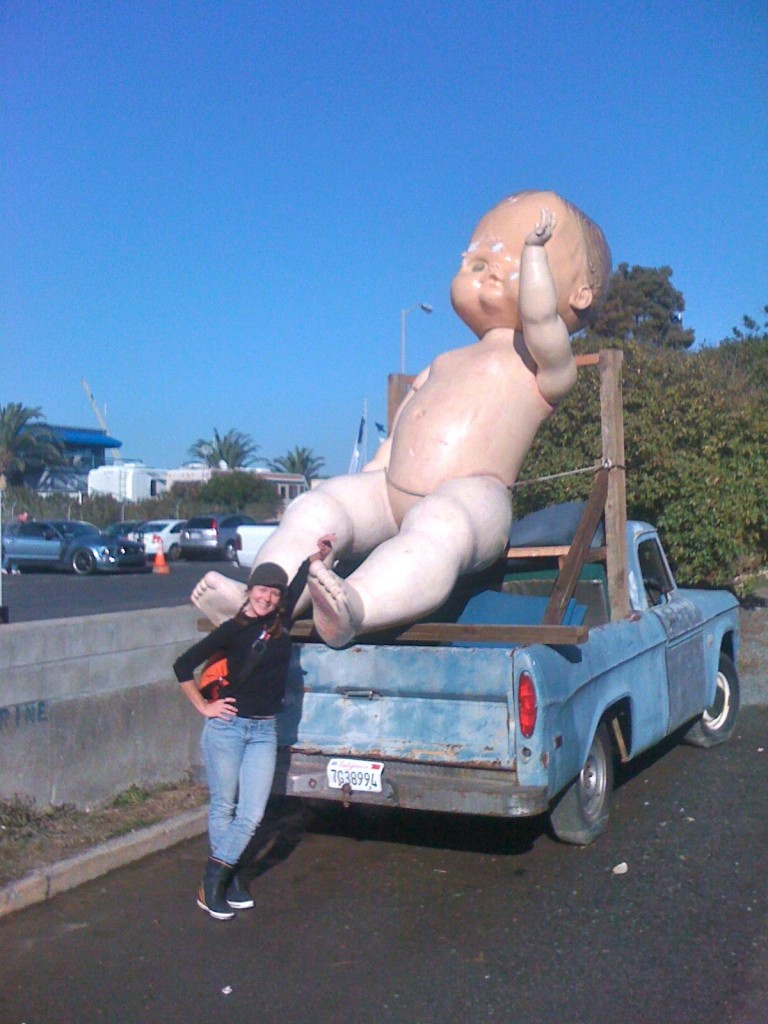 Just another example of the kind of place Sausalito is – this is a giant baby in the back of a pickup truck  parked behind a marine electronics store.
Miya remains pleased with our acquisition of a Sailrite Ultrafeed LSZ-1 sewing machine, a rugged bit of gear that can sew through something ridiculous like seven layers of leather at once. We had immediate use for it, having torn our headsail on the sail down from San Francisco.
The second sail repair, after the mainsail was patched up, was the 150 Genoa headsail, which I had torn the grommet clean out of while single-handing near Sidney, BC, back in 2009. I had reached 8.5kn on an absolutely gorgeous day when suddenly there was a BANG from the rigging, followed by some flapping… Miya added a new sailmakers thimble and some nylon strapping she got from a sail loft in Sausalito.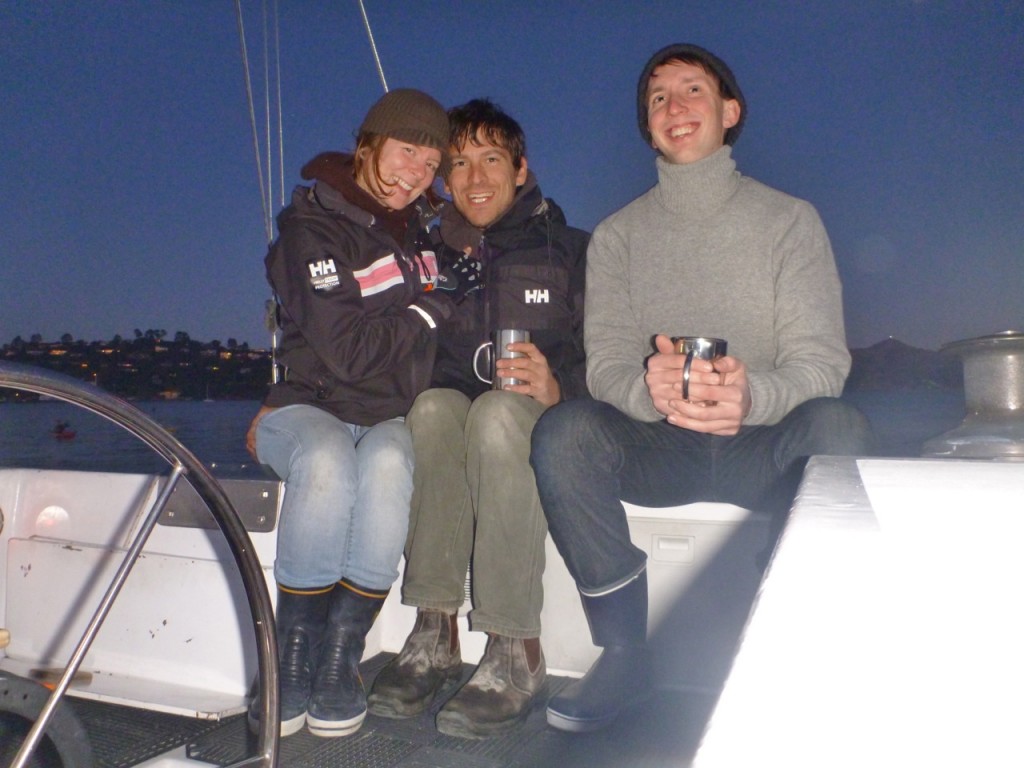 We took on a new crew member – Aylan Lee, whom we met in our Wilderness First Responder class in San Franciso, joined us for the sail from SF to San Diego. Aylan was working as a river rafting guide in Washington State, but given that this is the off season for rafting, he was seeking an adventure and thought perhaps sailing might fit the bill.
We left SF as the sun was going down, and as we cruised out under the Golden Gate and into the open ocean, the moon rose behind us. We were lucky to have the full moon for most of the trip, though each night after moonset the world was incredibly dark, with only the light of the stars to see by.
Aylan acclimatized quickly, but the first night was cold and damp and windy and when we woke up he had a look on his face like he was wondering if he had made the right choice or not, coming out here in the big blue with some people from his first aid class!
The difference having a third crew member was immediately noticeable, and we found ourselves better rested, with a lot more energy and a tonne more free time to hang out with one another, as well as being better fed and generally in better spirits.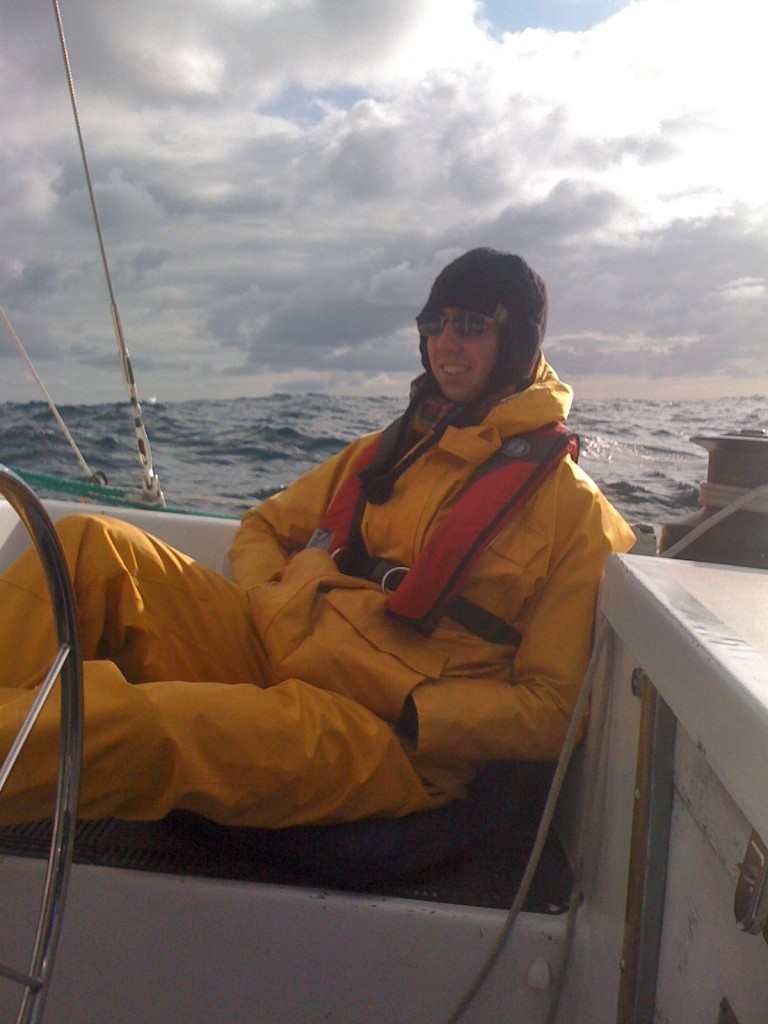 By day three, Aylan was quickly becoming a competent sailor – I awoke to find that the wind had risen during the night, but he'd handled it just as we'd taught him, tying in reefs and taking down the yankee to avoid being overpowered. Good show!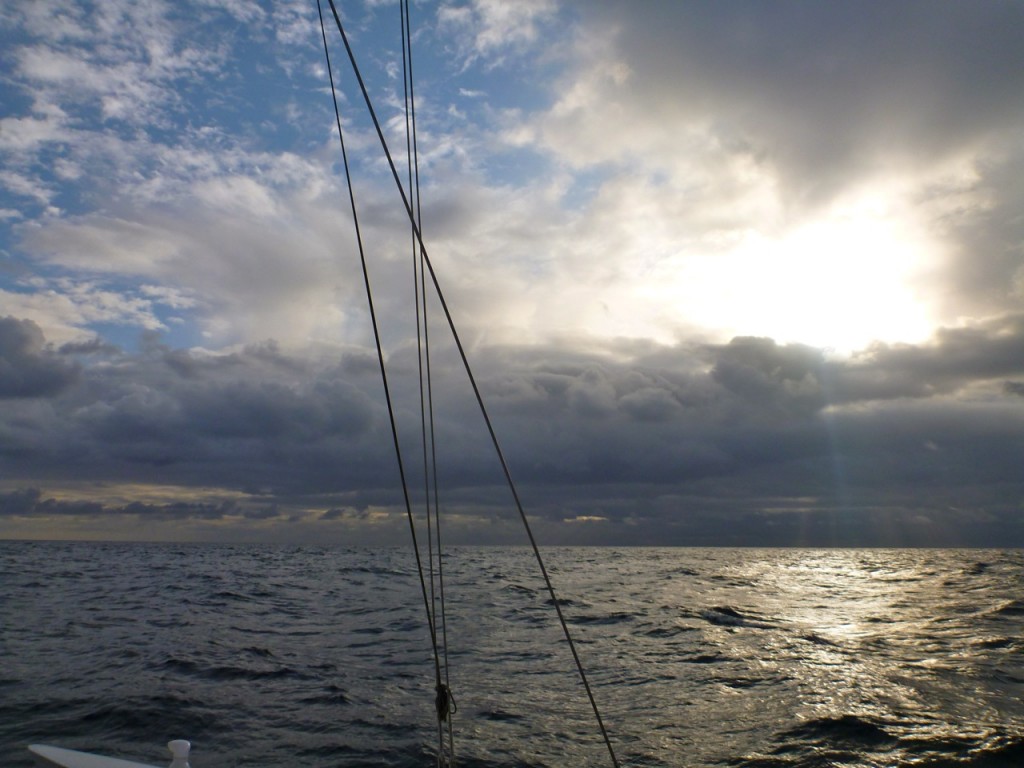 After the first few drizzly days, the weather was lovely! With a hundred miles of sea room to spare, we were able to see rainstorms from quite a distance away and adjust our course accordingly. At least, we could during the day – at night we had a harder time despite the full moon.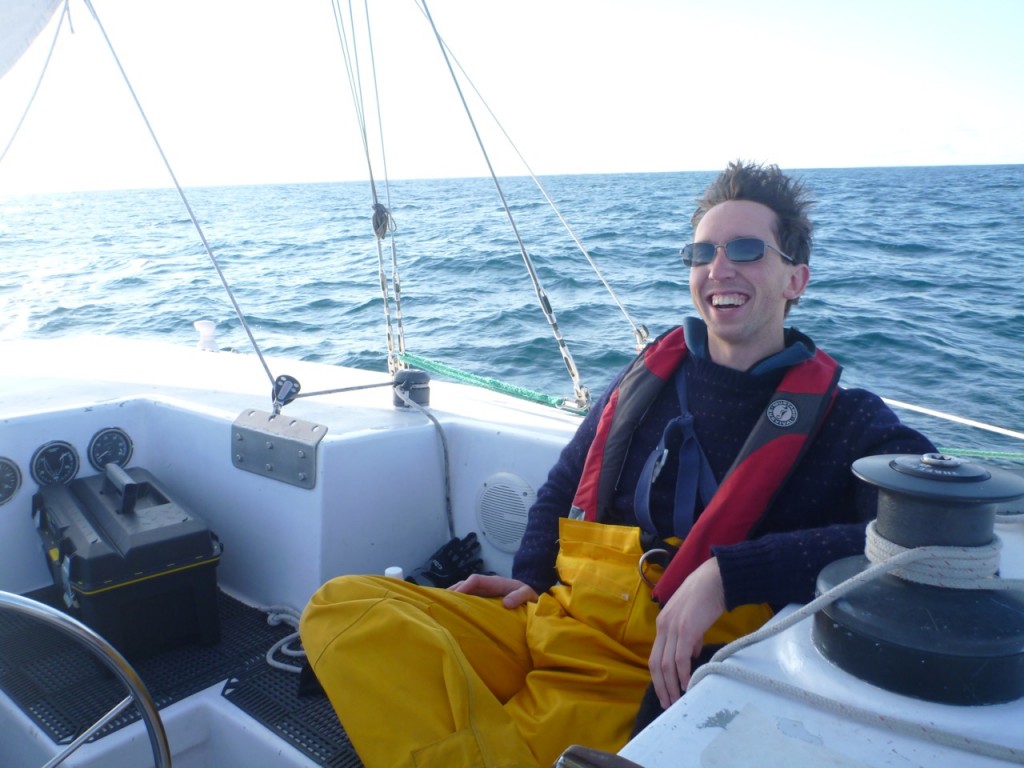 The crew swiftly fell into a rhythm, with our watch schedule working out to being Miya on from 8pm – midnight and again at 8am – noon, my watches from midnight until 4am and again from noon until 4pm, and Aylan on watch 4am-8am and 4pm-8pm. With eight hours between our watches, we all got plenty of sleep, which made for a much happier crew – I have to say I didn't envy Aylan's having to wake up at 4am, but I did envy the fact that he got to see the sunrise and sunset every day.
We had a bout of strong winds just as we approached the Channel Islands, so as we screamed past San Miguel island at 8+ knots, we cut the wheel to starboard and dropped the anchor for the night in a protected bay. We were woken early by hundreds of sea lions yowling on the nearby shoreline, and we were back on the road again by 10am.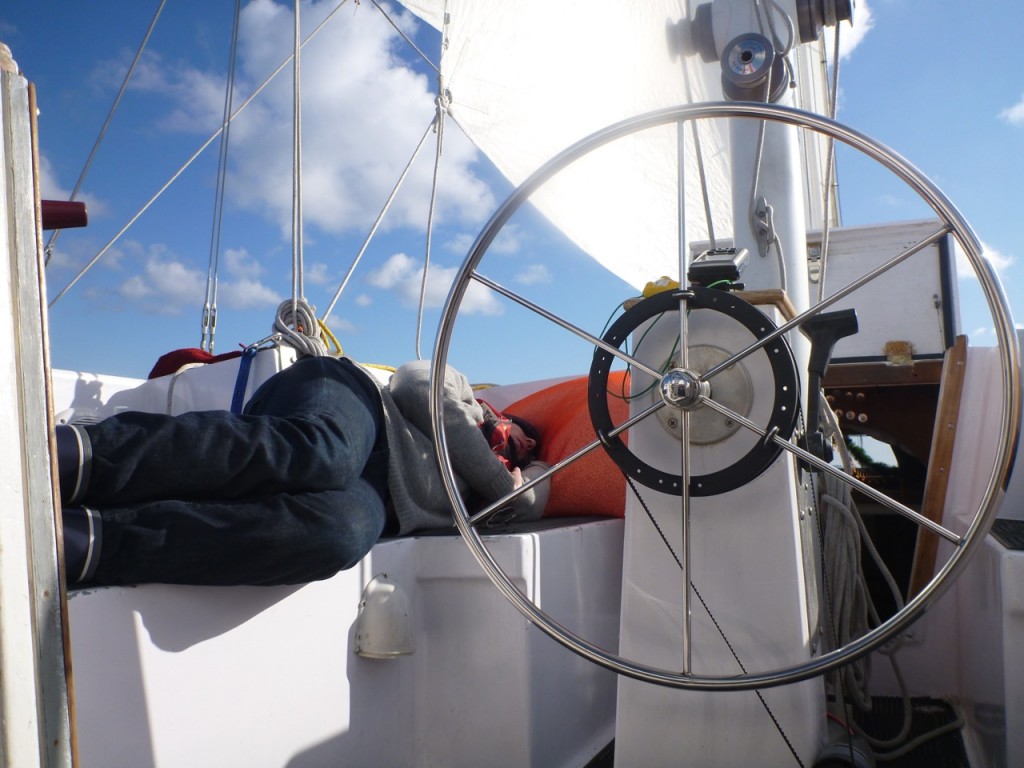 Afternoons became the time to hang out and socialize, which worked out well for me as I could expect to have some company on my noon-4pm shift. The last few days of the trip, once the novelty of sailing had worn off and the realization that off-watch there's really not that much to do, naps became happily commonplace.
We arrived in San Diego! What a strange city – the photo above shows a brigantine sailing vessel that regularly arrived in the harbour and challenged the Lady Washington with cannon fire. In the background you can see not just one but TWO aircraft carriers.
We celebrated our first night in SD by meeting up with some friends of Aylan's and heading out for some drinks. If there's one thing that a city of military and snowbirds does well, it's drink – the bar in this photo must have had 400 different brands of whisky!
The carefully-regulated San Diego anchorages made it a lot more difficult to row back and forth to the TIE Fighter, and so we spent a lot more time in the zodiac than usual. The travel and sun took their toll though, and the zodiac began to come apart at the seams. You can see the hand pump in its habitual place at the stern – voyages of more than five minutes began to require bailouts mid-trip.
After much dancing and negotiation, our KISS Energy wind generator finally arrived at Downwind Marine! Another few hundred dollars for a a pole-mounting kit and we found ourselves finally generating electricity, even after dark.
With both wind and solar power contributing to the house bank charging, we found ourselves having to use the Honda EU-2000i gasoline generator less and less – though still probably two to three times per week, which was a big disappointment. I guess the January sunshine in San Diego just wasn't enough for our electrical needs, and the anchorage was a little too sheltered to pull in any serious amperage from the wind turbine.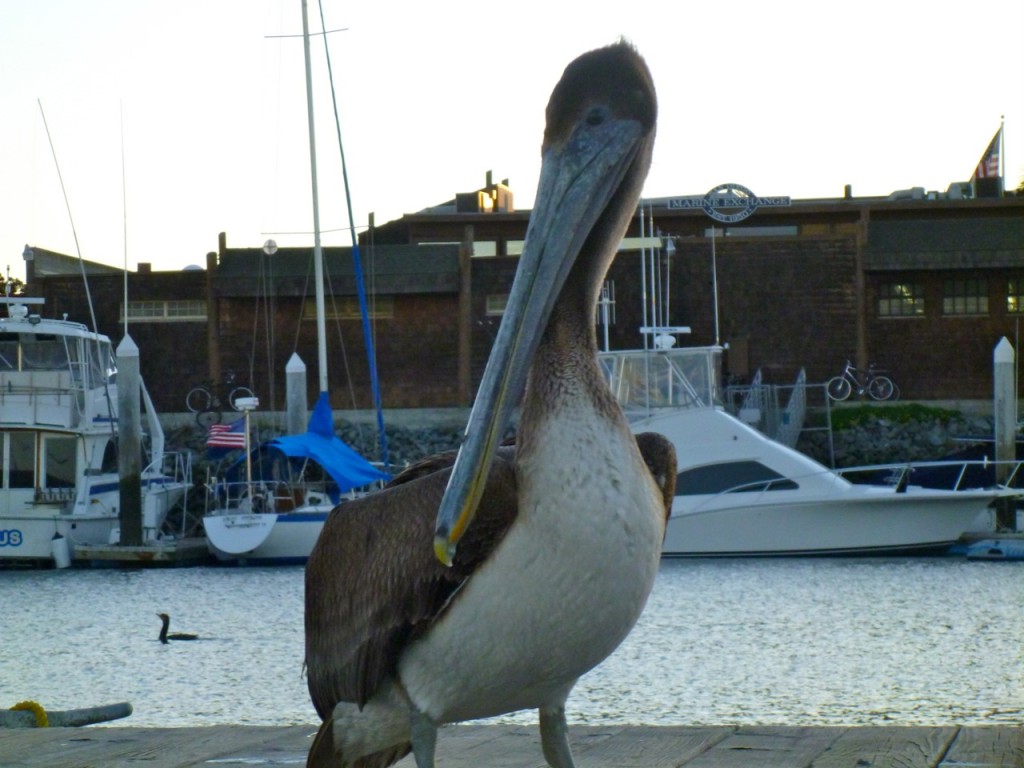 A lovely part of San Diego for me was the proliferance of my third-favourite bird, the noble pelican. Nothing makes you believe the theory that dinosaurs evolved into birds quite like the long beaks, large wingspans and creepy-good flight ability of these birds.
My second favourite bird was also new to me in San Diego, the Black-Crowned Night Heron.
Unfortunately, I couldn't take a decent photo of the heron that chose the starboard bow of the TIE Fighter as its nightly perch, hunting fish in the teeming waters of the bay. The herons don't have much of a neck, so they constantly look like they're skulking around… the one that visited us every night looked at me suspiciously (accusingly?) every time I went outside to change cabins in the dark. We had many a short conversation, though I never figured out if he/she was actually interested in being friends.
My favourite bird is, of course, my baby sister's daughter, my niece Wren.
One HUGE success for the TIE Fighter was the completion of the Spectra Ventura 150 water maker install! This took me a long time, and though I was able to finish it before we finally left San Diego, it required a swim to install the 5/8″ through-hull fitting. I thought I'd be able to handle the swim without my wetsuit, but after jumping in I quickly changed my mind.
With the water maker, now we can make our own drinking water from sea water. This is exactly the sort of thing we've been working towards all this time – with the electricity coming from solar and wind, and the water coming from the ocean (by way of the electricity we just made), we are yet another step closer to self-sufficiency.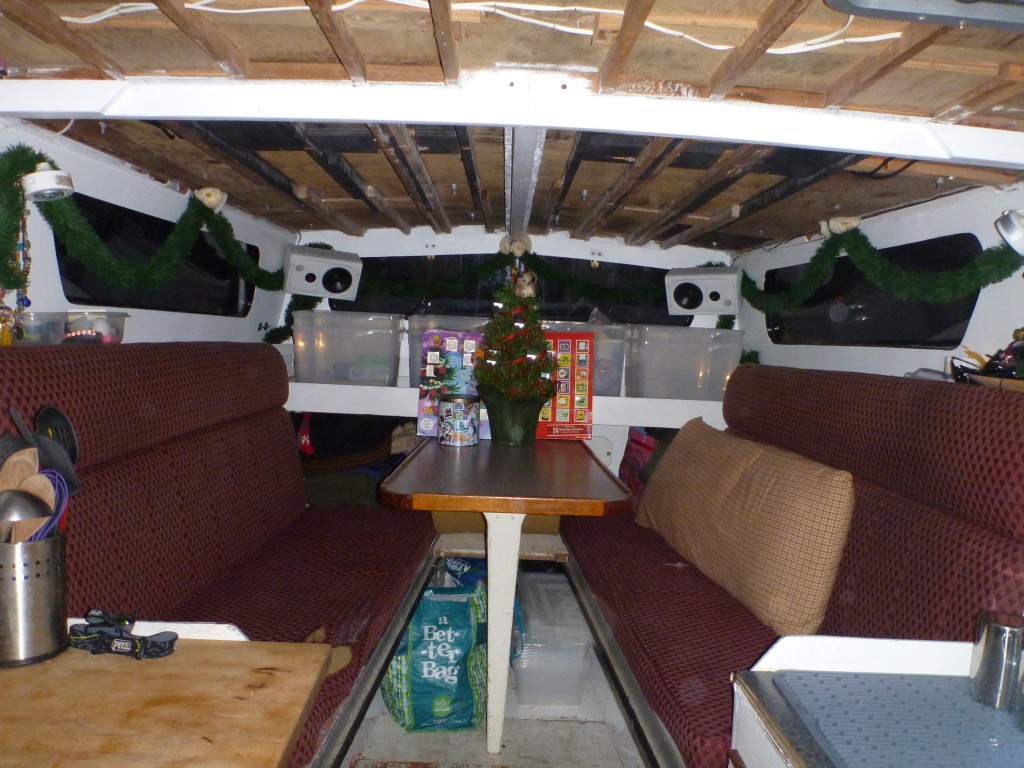 Christmas and New Years came and went without much fanfare – Miya and I spent a couple of nights in a hotel downtown to celebrate, enjoying hot showers and poolside drinks, albeit slightly chilly ones. Our Christmas tree was, for the second year in a row, a rosemary bush, and Miya made hearty rosemary bread to ward off the chilly nights.
More to come as I find the time…